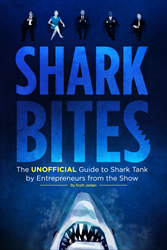 If the camera adds 10 pounds, on Shark Tank, all those pounds are in the form of added drama.
Sun Valley, Idaho (PRWEB) September 25, 2015
Scott Jordan is a former Shark Tank entrepreneur (Season 3, Ep 7), CEO of SCOTTeVEST and author. His latest book is an unofficial, behind-the-scenes look at the unseen drama of ABC's Shark Tank, titled "Shark Bites." Coinciding with tonight's Season 7 premiere of Shark Tank, Scott interviews dozens of fellow ST entrepreneurs and exposes the good, the bad and the downright insane parts of the show that never make it to air. All profits from the book benefit charity, and "Shark Bites" is now available in paperback and Kindle formats at http://www.amazon.com/gp/product/B015QTD3R6.
"If the camera adds 10 pounds, I think when it comes to ABC's highly-watched show Shark Tank, all 10 of those pounds are added in the form of drama," explains Scott. "What makes Shark Tank special among other reality shows is that the drama often continues for months and years after the cameras stop rolling."
"Shark Bites" explores that drama with an insider perspective. As a former contestant, Scott has special access to other contestants through channels closed to the public. Most of the dozens of interviews and stories in the book have never been told before in a public forum.
While Scott considers his dramatic appearance on Shark Tank to ultimately be a positive one (his episode is widely considered the most controversial of the series), not every other Shark Tank entrepreneur has had the same positive outcome.
Broken deals, broken trust, a $50K check written out "for show" that the entrepreneur was told never to cash, marriage offers, personal attacks, tears and more are more common on Shark Tank than even the most die-hard fans may believe.
The Sharks are sharks. Five powerful, forceful and opinionated personalities are put into a room, and "weaker" entrepreneurs who are trying to make their dreams come true are dangled in front on them.
"Shark Bites" tells all, and shows how even the most dramatic Shark Tank stories can sometimes have a happy ending. Look behind the curtain and under the surface of the water, and get a new appreciation for what really happens on Shark Tank with Shark Bites.
About Scott Jordan
Scott Jordan is the CEO and Founder of SCOTTeVEST, which creates multi-pocket clothing designed to carry electronics. He is the author of the new book Shark Bites and Pocket Man: The Unauthorized Autobiography of a Passionate, Personal Promoter.
Founded in 2000, SCOTTeVEST engineers TEC-Technology Enabled Clothing® with hidden, gadget-friendly pockets. Years of product innovation later, their clothing line has grown to include over 50 stylish, top-quality and functional items for men and women. Named to INC Magazine's Fastest Growing Companies list for several years in a row, SCOTTeVEST is a privately held company headquartered in beautiful Ketchum/Sun Valley, Idaho.