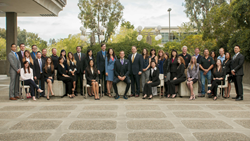 (PRWEB) September 24, 2015
DeLeon Realty, a licensed real estate agent in the Menlo Park/Palo Alto, California, market, has joined the prestigious Haute Living Real Estate Network.
The Haute Living Real Estate Network (HLRN) of Hauteresidence.com is proud to recognize DeLeon Realty as a prominent real estate professional and the network's newest partner. HLRN unites a distinguished collective of leading real estate agents and brokers, highlighting the most extravagant properties in leading markets around the globe for affluent buyers, sellers and real estate enthusiasts.
About DeLeon Realty:
DeLeon Realty is an innovative Silicon Valley-based real estate company that is home to one of the nation's top realtors, Ken DeLeon, and his specialized team. This company has revolutionized the home-selling process by offering clients a full suite of services through its specialists, who include licensed contractors, interior designers, and an in-house marketing team. Tailoring their services to meet the needs of their clients, DeLeon Realty's real estate agents are experienced, highly educated, and knowledgeable of their respective regions. Most importantly, these agents are salaried professionals who are motivated to help their clients find the best home investments without the distraction of commission-based sales incentives.
To learn more, visit DeLeon Realty's Haute Residence profile: http://www.hauteresidence.com/member/deleon-team
About Haute Living Real Estate Network (HLRN):
Haute Living Real Estate Network (HLRN) of Hauteresidence.com offers readers the most prominent directory of experienced realtors, brokers and luxury listings, and HLRN has grown to be the number one source for real estate news, residential developments, celebrity real estate news and more. Seeking an experienced interior designer? Hauteresidence.com is also home to Haute Design Network (HDN), a collective of celebrated interior designers that will help you decorate your new home or stage an active listing.
Access all of this information and more by visiting: http://www.hauteresidence.com