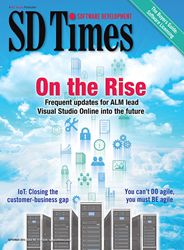 Readers still look to the brands they trust for information delivered in a format they still love.
Melville, N.Y. (PRWEB) September 25, 2015
BZ Media LLC announced the publication today of the September issue of SD Times, the biggest in terms of revenue since October, 2011. SD (Software Development) Times is the publication of record for the software development industry worldwide with more than 75,000 subscribers. Thirty-one unique advertisers purchased 37.5 pages in the 72-page issue, totaling $126,294 for the month.
"The tremendous interest in SD Times shows two things: One, that readers still look to the brands they trust for information delivered in a format they still love, and two, that advertisers see that they still get great value for their spend in terms of brand recognition and their association with a quality magazine," said David Lyman, publisher of SD Times.
The revenue figure was buoyed by two new offerings in SD Times: sponsored articles, and the buyer's guide feature. Those alone contributed to more than 20 percent of the total, and is indicative of a trend in B-to-B publishing that has companies looking to establish thought leadership by contributing to articles that cover their areas of expertise. Intel, Red Hat and Developer Express each had special sponsored editorial units in the September issue.
"We hear from our customers that they are tiring of the declining returns of metric-based advertising, and that print represents 'a new approach' to their marketing campaigns," Lyman said. "Advertisers are realizing that people prefer to buy from companies they have heard of, and there is still no better way to build up that recognition than a 4-color, attention-grabbing ad in a print magazine like SD Times."
More information about is at http://www.sdtimes.com. For information on advertising in SD Times, please contact David Lyman, Publisher, at dlyman@bzmedia.com or 978-465-2351.
About BZ Media
BZ Media LLC is a 15 year-old high-tech media company producing industry-leading technical conferences and expositions. BZ Media publishes SD Times, the leading magazine for software developers; AnDevCon, the world's largest Android Developer Conference; Big Data TechCon, the how-to conference for implementing Big Data; Wearables TechCon™ the largest technical conference and expo for developers, engineers and designers of wearable computing devices; and InterDrone, the International Drone Conference and Exposition.