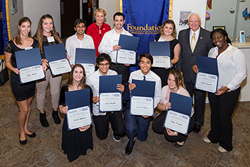 "Our desire to see more hard-working individuals in our community encouraged us to contribute to this scholarship fund."
Altamonte Springs, Florida (PRWEB) October 05, 2015
In partnership with Sentry Management, a Longwood-based Community and Homeowners Association Management service provider, and 15 other vendors, $75,000 was raised to aid undergraduates working for a degree at Seminole State.
Sentry Management celebrates 40 years of outstanding service to Community Associations across the nation by recognizing the high quality education Seminole State College of Florida provides for its students. Initially, Sentry Management's plan was to donate $40,000, however after partnering with the firm of Arias Bosinger and 15 other local companies, it became apparent that the commitment to education would far exceed that sum.
Carlos Arias, partner at Arias Bosinger said he was proud to be a part of this generous donation because he has been impressed at the aptitude for real-world work and problem solving Seminole State graduates posses as a result of their education. "Our desire to see more hard-working individuals in our community encouraged us to contribute to this scholarship fund."
Funding will be awarded in $1000 increments to 75 students in both the general population of Seminole State and to those enrolled in the accounting program. Students will be able to apply for this scholarship online beginning October 1st.
Arias also added that he and Sonia Bosinger, "Are excited to invite the well-qualified graduates of Seminole State College of Florida into the workforce, and extend our best wishes to those completing their studies this academic year."