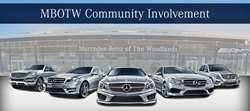 "We are very excited about the Haras Cup and we are proud to partner with an event that supports a children's charity." --Tom Agresti, Mercedes-Benz of The Woodlands
The Woodlands, TX (PRWEB) September 25, 2015
Mercedes-Benz of The Woodlands, Texas' newest authorized Mercedes-Benz dealer in the north Houston area, is a sponsor of the Haras Cup Working Equitation event, which will benefit local children's charity Kids' Meals Houston.
The Haras Cup, to be held Oct. 23-25 at Haras Hacienda in Magnolia, Texas, will showcase some of the top horsemen and women from around the world as they compete in various events and rider age divisions, ranging from youth to advanced. Winners who display the best performance in dressage, obstacles and speed will be awarded $80,000 in prize money. The first day of the Haras Cup will include the Dressage competition, which will feature riders of all ages and skill levels. Day two will feature riders who advance to the Ease of Handling trials. On the final day, competitors will move on to the Speed phase, which will feature riders on horseback as they race through a specially-designed obstacle course.
The 3-day competition is the culmination of a year of horse riding events and educational opportunities put on by Working Equitation International Association of the USA (WEIAUSA). The Haras Cup will serve as the season-ending championship competition for WEIAUSA.
In addition to the horse riding competitions, there will be a variety of events surrounding the Haras Cup, including exhibitions, fashion shows, special horse performances, a hat derby luncheon, evening cocktail parties, buffet dinners, vendors and kids' entertainment. The Haras Cup is truly a unique experience that combines the thrill and grace of working equitation with education and entertainment for the entire family.
The event will benefit Kids' Meals Houston, a local charity that provides food for preschool-aged children living in poverty. As the state's only meals-on-wheels program, Kids' Meals Houston delivers free healthy food to hungry children in Houston's north and east sides each weekday.
This year's Haras Cup honorees include: The United States Pony Club, which is a program that teaches youth leadership and confidence through the care of horses and ponies; SIRE, a therapeutic horsemanship organization that serves adults and children with disabilities; and Houston Pet Set, a group that provides grants to local animal welfare-related nonprofit organizations.
"We are very excited about the Haras Cup and we are proud to partner with an event that supports a children's charity," said Tom Agresti of Mercedes-Benz of The Woodlands. "It's going to be a fun time for everyone with so much to see and do. It's such a great opportunity to experience first-hand some of the world's best competitors in the sport. Plus, the Haras Cup is committed to helping a community charity and that's something we really care about."
General access tickets and VIP passes to the Haras Cup are available at http://harascup.com
About Mercedes-Benz of The Woodlands:
Serving The Woodlands area as well as the north of Houston, Mercedes-Benz of The Woodlands is the newest authorized Mercedes dealer in Texas. The dealership offers a wide range of new and certified pre-owned Mercedes-Benz and Sprinter vehicles. The location also provides world-class service, luxurious amenities and genuine Mercedes-Benz parts, which can be ordered online at http://www.mbotw.com.
Contact:
Mercedes-Benz of The Woodlands
16917 Interstate 45 South, The Woodlands Texas, 77385
936-206-7500