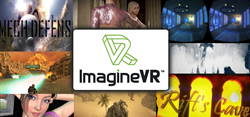 Under the concept of being a "Leading platform to showcase VR content from Japan" and "to be a platform to localize and distribute English VR products in Japan market," ImagineVR is poised to help expand the availability and the breadth of the VR market.
Los Angeles, California (PRWEB) September 28, 2015
ImagineVR Inc., a global support company for Virtual Reality (henceforward, VR) product creators has announced the launch of the ImagineVR™ platform. ImagineVR is a digital platform specialized in distributing proprietary digital rights management (DRM) protected VR contents. To commemorate the launch, various English and Japanese VR titles will be available through ImagineVR.
Free English to Japanese localization services and Japan / English market promotion are offered to creators registered with ImagineVR. Invitation to register is extended to all creators who may be seeking ways to promote and distribute their products.
ImagineVR™ Overview

Distribution, showcasing, and promotions for VR titles (Includes DEMO).
Proprietary DRM applied to help protect products.
Free ENG to JP localization and customer support for global distribution needs.
Handling both general audience, and R18 audience products.
Supported Contents: 360 videos, photos, games, apps, animation, etc.
Supported HMD*: Oculus Rift / GearVR / Google Cardboard
Currently, ImagineVR DRM is only available for Windows PC.
No DRM available for mobile products.
Registered products can be distributed through ImagineVR and major Japanese channel.
Official ImagineVR Website
About ImagineVR™
ImagineVR™ is a virtual reality content platform ( http://www.imaginevr.io ) offering publishing services. In cooperation with Japan's major download channels, ImagineVR offers comprehensive support to creators of all walks, to distribute their contents within Japan, and throughout the world.