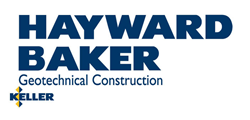 Hanover, Maryland (PRWEB) September 24, 2015
Hayward Baker Inc. (HBI), North America's leader in geotechnical construction, is pleased to announce that Ryan Johnson has joined the company as Senior Project Manager at HBI's new office location in Suburban Minneapolis-St. Paul, Minnesota.
Johnson, who has over 15 years of experience in the construction industry including on-site project management, will focus his efforts on supporting customers in HBI's Central region, a dynamic and successful geographic area for the company.
After Johnson earned his Bachelor of Science in Construction Management from North Dakota State University, he began his career as a Project Manager and Safety Officer at a general contractor in North Dakota, focusing on heavy/civil projects. More recently, Johnson worked as a Foundation Group Manager for a civil contractor in Minneapolis, Minnesota. His responsibilities included developing and implementing business plans for the deep foundation division as well as managing deep foundation and civil projects.
Johnson is a respected leader with extensive industry knowledge. He is disciplined in tailoring project delivery methods to meet specific client expectations. He specializes in deep foundations, structural concrete, ground improvement and earth retention systems.
Johnson is also active in industry associations across the region and is a LEED Accredited Professional.
Commenting on the addition of Johnson and the relocation of the Twin Cities-area office, Kyle Camper, Vice President of the Central Region, stated, "Ryan comes to us with leadership skills and extensive relevant work experience. His insights and valuable perspectives make him a great fit for Hayward Baker."
Camper added, "Ryan is joining us at a fortuitous time, as our Minneapolis office relocates from a shared space to a more established, permanent location."
Johnson's office is located at 10650 County Road 81, Suite 106 in Maple Grove, Minnesota. He can be reached at (763) 225-4100 or RWJohnson(at)haywardbaker(dot)com.
About Hayward Baker Inc.
Hayward Baker is North America's leader in geotechnical construction, annually ranked by Engineering News-Record (ENR) magazine #1 in the profession. With a 60-year record of experience, Hayward Baker offers geotechnical construction technologies through a network of more than 20 company-owned offices and equipment yards across the continent. Project applications include foundation support, settlement control, site improvement, slope stabilization, underpinning, excavation shoring, earth retention, seismic/liquefaction mitigation, ground water control, and environmental remediation.
Hayward Baker Inc. is part of the Keller Group of companies, a multinational organization providing geotechnical construction services throughout the world. Web site address: http://www.keller.co.uk.