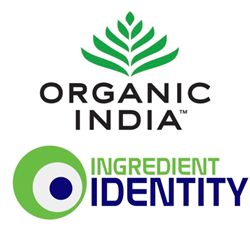 ...introducing a new kind of 'sustainable quality'...
Santa Ana, CA (PRWEB) October 02, 2015
Ingredient Identity, a preeminent regulatory management consultancy to the Food, Dietary Supplement, Cosmetic and Homeopathic industries, is proud to announce that it has been selected by ORGANIC INDIA USA, a leading mission-driven manufacturer and supplier of herb-based wellness teas and dietary supplements, to provide strategic quality and regulatory support services in the U.S. marketplace.
"As we expand our portfolio by bringing new high quality, sustainably-sourced products to the U.S., we needed a regulatory partner with expertise in all critical areas impacting our strategy, that could not only scale-up as we grow, but also remain flexible," said Kyle Garner, CEO of ORGANIC INDIA USA. "Ingredient Identity provides the well-rounded GMP expertise, full traceability, and overall transparency we were looking for in a specialty provider of this sort so that we could remain focused on expanding our mission to more consumers while ensuring we deliver the best quality products from our farms in India."
ORGANIC INDIA USA will leverage Ingredient Identity to provide direct support as well as advisory services in the various areas of Product Development, Manufacturing, Distribution and Marketing. Additionally, the company will provide real-time Quality Assurance support inclusive of controlled documentation, facility GMP audits, and Quality System Optimization across ORGANIC INDIA's various international locations.
"We are very pleased to have been selected by ORGANIC INDIA USA for this new endeavor. Under Kyle's leadership, the company will undoubtedly raise the bar for their competitors, by way of introducing a new kind of 'sustainable quality' from cultivation to consumer that the industry has really yet to witness," said Brandon Griffin, CEO of Ingredient Identity. "Aligning with their vision and being a part of this process moving forward is something that each team member here subscribes to innately and is simply exciting every way you look at it. Cheers to embodying health and happiness."
About ORGANIC INDIA:
ORGANIC INDIA combines Regenerative Agricultural practices with Ayurvedic tradition to offer over 50 premium herbal teas and supplements to the US market. Since 1999, ORGANIC INDIA has worked directly with thousands of family farmers in India, creating sustainable communities through fair-market agriculture, access to healthcare, education and gender equality and empowerment programs. ORGANIC INDIA products are certified organic and wild crafted on over half a million acres of traditional and converted farmland throughout India. For more information on ORGANIC INDIA USA, or its 2,000 retailers, please visit: http://www.OrganicIndiaUSA.com
About Ingredient Identity:
Ingredient Identity is a specialty regulatory management consultancy servicing the Food, Dietary Supplement, Cosmetic and Homeopathic industries. The company specializes in Quality and Regulatory Guidance, GRAS and NDIN submissions, Import/Export and FDA inspection support, Regulatory Strategy, Quality System Optimization and Litigation Consulting to Contract Manufacturers, Ingredient Suppliers, Retailers, Multi-level Marketing companies and Own-label Distributors worldwide. For more visit: http://www.ingredientidentity.com