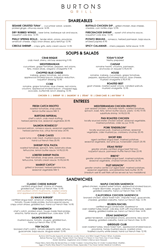 Andover, Massachusetts (PRWEB) September 25, 2015
Burtons Grill, a ten unit upscale American chain that recently celebrated its ten year anniversary debuted its new fall menu. Stop in today and taste the new all day fall seasonal menu that offers more variety.
Guest also have the option of choosing from our new sharable section which features flavorful creole shrimp which are served with crispy grits and a zesty cream sauce or philly spring rolls composed of tender sirloin, onions, provolone, American cheese, crispy onion straws served with spicy ketchup.
The new menu features several original dishes, which have historically been Burtons Grill loyal customers favorites. Old guest favorites include the savory lobster shrimp pasta dish which is a hearty portion of jumbo shrimp and lobster, snap peas, fresh tomatoes, parmesan with a touch of light cream or the griddled club with oven roasted turkey, black forest ham and applewood smoked bacon. Guest also have the option of ordering a few entrée's in half portion which allows them to save room for one of our delicious desserts such as the key lime pie which is Burtons Grill version of the Florida classic, two creamy layers surrounded by a granola crust, topped with fresh whipped cream .
For the month of October, Burtons Grill is also featuring delicious fall inspired dishes including the harvest salad, butternut squash soup, cider roasted chicken and pumpkin ravioli.
Stop by Burtons Grill today and sip.eat.savor.repeat!