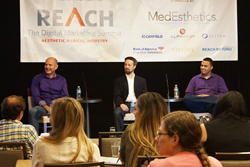 Each speaker informed audiences with captivating and educational sessions on digital marketing in the current age.
Branford, Conn. (PRWEB) September 24, 2015
Acara Partners presented and managed the first REACH Digital Marketing Summit this past weekend at the Westin New York in Times Square, New York. Plastic surgeons, dermatologists, physicians, and other medical aesthetic professionals from across the country attended the two-day summit, which covered how integrating digital marketing strategies can increase sales and boost businesses.
Keynote speakers Jamie Turner of 60 Second Marketing, Brian Carter of The Carter Group, and Thomas Berry of Google headlined the event, as each speaker informed audiences with captivating and educational sessions on digital marketing in the current age.
Jamie Turner kicked off the weekend with a captivating address on a holistic approach to marketing and a specific emphasis on mobile marketing. Brian Carter touched upon many of the same principles, spending an hour explaining to the audience how Facebook is one of the most influential marketing tools in history. Thomas Berry wrapped up the summit on Sunday morning, using his time to demonstrate to the audience how vital it is for medical professionals to adhere to Google best practices and use Google as a tool.
The keynote speakers were joined by Acara Partners' team of experts who ran various workshops covering social media, website design and development, branding, content writing, search engine optimization, and video and photography. Each of the Acara team members utilized case studies and a results-oriented approach to explain how businesses can benefit from partnering with a comprehensive digital marketing plan in place, and gave audience members the tools to identify a strong digital marketing team or agency.
Francis Acunzo, CEO of Acara Partners, was extremely pleased with the outcome of the weekend.
"I want to thank the keynote speakers, Brian, Jamie, and Thomas, as well as our various sponsors, for providing attendees with the expertise and resources to improve their current businesses as we move further into the age of digital marketing. I am looking forward to future opportunities to continue spreading the value of digital marketing in the medical aesthetic industry."
About Acara Partners
Francis and Colleen Acunzo are recognized pioneers in the medical aesthetics industry. Driven by their passion for success, this entrepreneurial husband-and-wife team applied their years of experience when they co-founded Acara Partners in 2003. Their dedication has established their firm as the industry's quintessential, comprehensive business advisory, marketing, advertising and digital agency.
Acara's team of experts integrates knowledge of strategic planning, digital marketing, web development, graphic design and social media management to drive growth, revenue and profits for their clients. With an impressive roster of over 165 current and past clients in major cities in most of the 50 states, as well as internationally, Acara Partners is known for helping to lead the impressive medical aesthetics industry growth spurt, as well their ability to double the revenue of many of the businesses they work with.
To learn more, please visit http://acarapartners.com
To find out more information about Reach Beyond Marketing, please visit http://reachbeyondmarketing.com