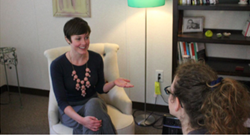 "At the end of the day we want our girls to do the right thing because it's the right thing to do. We want them to learn how to regulate their thoughts, feelings," says Kyle Gillett, Executive Director and Founding Partner of Solstice East.
Asheville, NC (PRWEB) September 25, 2015
Solstice East, leading residential treatment center for teen girls ages 14-18, observes National Psychotherapy Day on September 25, 2015 by encouraging everyone to seek emotional healing. Solstice East recognizes the need to promote awareness of the effectiveness of psychotherapy because of the stigma so often attached with psychotherapy and mental health.
With a therapeutic program specializing in treating a wide array of issues such as trauma, loss, and attachment and the often-accompanying addictive patterns of behavior and thought, Solstice East has helped hundreds of teen girls along a journey towards success and happiness.
As a premier residential treatment center, Solstice East has a diverse group of talented clinicians who utilize psychotherapy to connect, engage and empower teen girls.
Clinicians at Solstice East utilize the following forms of psychotherapy to treat teens:
EMDR: (Eye Movement Desensitization and Reprocessing) is an evidence-based technique used to treat trauma and anxiety.
"This form of psychotherapy helps dampen the power of emotionally-charged memories of past traumatic events," says Dan Hadley, M.S., LMFT, Director of Clinical Services at Solstice East.
TF-CBT: (Trauma Focused Cognitive Behavior Therapy) provides psychoeducation on trauma and how it impacts social emotional health.
"Clients create a narrative of their trauma and are then able to process and 'rewrite' the story in a way that empowers them. It also focuses on learning to have healthy, safe relationships," says Hadley.
TF-EAP: (Trauma Focused Equine Assisted Psychotherapy) is one of the most-used forms of psychotherapy at Solstice East. Horses are used to help clients see how they behave and are responded to in relationships. Clients also learn assertiveness and self-regulation skills.
"This is a powerful form of psychotherapy because horses provide immediate non-judgmental feedback about how they are showing up and the girls can make adjustments and see the positive impacts quickly," says Georgia DeFrancia, MSW, LCSW, Assistant Clinical Director and Equine Director at Solstice East.
DBT: (Dialectical Behavior Therapy) is integrated into Solstice East's clinical program. Dialectical behavioral therapy emphasizes accepting uncomfortable thoughts, feelings and behaviors instead of struggling with them.
"This helps our girls learn emotion regulation and how to have healthier relationships with themselves and others," says DeFrancia.
Other forms of psychotherapy used include CBT (Cognitive Behavior Therapy), Somatic Experiencing, Solution Focused Therapy, as well as Adventure-Based Therapy and Motivational Interviewing.
The Solstice East approach focuses on treating the whole person, not just the "identified problem" or "problem behavior." It isn't focused on symptom reduction, but on getting to the core of the issues, and building a strong foundation. Solstice strives to use all forms of psychotherapy required to help the individual heal.
"At the end of the day, we want our girls to do the right thing because it's the right thing to do," says Kyle Gillett, Ph.D, LMFT, Executive Director and Founding Partner of Solstice East. "We want them to learn how to regulate their thoughts, feelings and intensity so that they can make healthy decisions and have healthy relationships in order to lead a meaningful and fulfilling life."
___________________________________________________________
Solstice East, located just outside of Asheville, North Carolina, is a residential treatment center that has helped hundreds of struggling teens on their journey to solving issues like depression, anxiety, mood disorders, trauma and associated symptoms, drug abuse/addiction, and behavioral problems. Solstice East offers specialized, clinically intensive programs based on the specific needs of young women. At Solstice East, young women discover their full potential. For additional information on Solstice East, please call 828-484-9946.