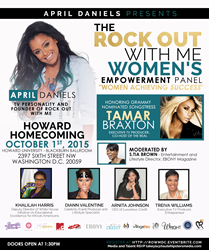 "This campaign is near and dear to my heart and has offered healing for hundreds of women nationwide." April Daniels
Washington D.C. (PRWEB) September 28, 2015
WE TV's Television Personality, April Daniels and Rock Out With Me has partnered with Howard University and EBONY Magazine to conclude the first leg of the Rock Out With Me Women's Empowerment Multi-City Tour. The event finale will take place at Howard University, J. Blackburn University Center Ballroom located at 2397 Sixth Street, NW Washington D.C. 20059 on Thursday, Oct 1, 2015 at 2pm during Howard's Homecoming festivities.
The event produced by campaign managers, Wright Productions and moderated by EBONY Magazine's Entertainment and Lifestyle Director, S. Tia Brown, will feature panelists April Daniels from the hit TV Show Tamar and Vince and founder of the Rock Out With Me Campaign, Executive Television Producer; Treiva Williams (Mary Mary, R&B Divas, LHHH); Celebrity Lifestyle Designer Diann Valentine; Arnita Johnson, CEO of Luxurious Credit; and Ms. Khalilah Harris, the Deputy Director of the White House Initiative on Educational Excellence for African Americans. Tamar Braxton, Grammy nominated singer, Co-Host of The Real and Star of the Tamar and Vince show on WE! TV will be honored at the event.
The Rock Out With Me Campaign founded in 2014, seeks to unite women nationwide through a series of women empowerment events where celebrity panelists, influencers and other prominent women in the community discuss relevant issues affecting women today. The organization's mission is to empower, encourage and educate women who are encouraged to network, share, grow, and support each other in a nurturing environment. The Rock Out With Me campaign has empowered hundreds of women on its 2015 national tour since its launch in Los Angeles, visiting cities such as Atlanta, Chicago and New Jersey. The D.C. installment is set to be the largest Rock Out With Me empowerment event to-date with an expected 500 guests in attendance.
April Daniels rose to fame while being a regular on WE TV's Tamar & Vince show. Using her platform for good, her mission has been to unite women through unity, love and respect, while showing others that women of reality television can be positive role models during a time when images of women supporting each other on television and social media are far and few in between.
"To much is given, much is expected, and I plan to give of myself in every way possible", says April Daniels. "This campaign is near and dear to my heart and has offered healing for hundreds of women nationwide. Having the support of the White House Initiative on Educational Excellence for African Americans and holding this event at Howard University during their celebrated Homecoming week is more than an honor. I am excited to give back to the students on campus and to women in the community while honoring a dear friend, Tamar Braxton who exemplifies never giving up and following your dreams."
Guests will participate in a Q&A with the celebrated panel on topics such as education, entrepreneurship, relationship building while also indulging in pampering services and interactive activations from Mielle Organics, Lip Synk Cosmetics, Luxurious Credit, Village Tea Company and Motions Cosmetics. Gift bags will be provided by PZI Jeans and Beautiful Textures. Guests can register at http://www.ROWMDC.eventbrite.com. Doors open at 1:30pm with the panel starting promptly at 3:30pm.
For partnership opportunities and more information about the "Rock Out With Me" campaign please visit http://www.rockoutwithme.com or http://www.wrightprods.com
###
About April Daniels and The Rock Out With Me Campaign
Philanthropist, entrepreneur, fashionista, wife and mother; April Daniels is also a co-star on WE TV's Tamar and Vince Show and founder of the "Rock Out With Me" Campaign. April Daniels created the Rock Out with Me Campaign to help restore unity amongst women. The objective of the campaign is to provide a nationwide platform that demonstrates women providing support for one another, while helping women gain self-respect and love for themselves. Follow us @RockOutWithMe_ on Instagram and Twitter.
About Wright Productions
Wright Productions is a full service event production, brand management and experiential marketing firm based in Los Angeles. The company is owned by three sisters, Mena, Iyana and Ashanta Wright which specializes in event design, brand consulting and women empowerment projects. For more information please visit http://www.wrightprods.com @wrightprods_ on Instagram and Twitter.
About EBONY:
EBONY is the number one source for an authoritative perspective on the multidimensional African-American community. The EBONY brand, including print and digital, reaches over 10.3 million readers monthly. The print publication readers are 33% millennials. The EBONY audience has the most black men, black women and black higher income readers.
Our media reflects the cross-section of Black America as delivered by our best thinkers, trendsetters, activists, celebrities and next-generation leaders.
EBONY ignites conversation, promotes empowerment and celebrates aspiration. We are the heart, soul and pulse of Black America and a catalyst for reflection and progression.
Follow and engage with Ebony: @EbonyMag on Twitter, EbonyMag on Facebook, EbonyMagazine on Instagram, EbonyMag.Tumblr.com on Tumblr, and Ebony.com on the web.
We are not "new Black," nor "old Black," we are ALL Black.
Follow us and tell us what's on your mind: @EBONYMag on Twitter | EBONYMag on Facebook | EBONYMag.Tumblr.com on Tumblr | EBONY.com online