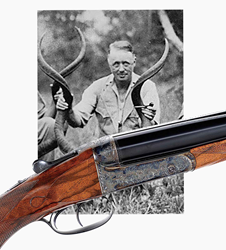 We are thrilled to be presenting our new Sporting & Collector Firearms Session. Many collectors have asked us to consider expanding our offering. There has been a been a tremendous amount of interest from both consignors and buyers alike.
Fairfield, Maine (PRWEB) September 25, 2015
James D. Julia, Inc., the world's leading firearms auctioneer, will conduct their Fall Firearms Auction on October 5th-7th with a preview on October 1st and 2nd. The first session on October 5th will be the inaugural Sporting and Collector Firearms auction and will include over 730 fine and outstanding firearms in the more affordable range of $2,000-$8,000. For years, Julia's has distinguished itself as selling more high-end, expensive, and rare firearms than any other firearms auction house on Earth. Now with the new Sporting & Collector Session which begins on October 5th, our sales will also include more affordable firearms. Julia's has also distinguished themselves as selling more high-end, iconic collections than any other auction house and their 3-day Fall extravaganza tops all previous sales events, representing at least 18 major collectors and collections.
The October 5th Sporting and Collector Firearms sale is exceptionally strong in quality sporting arms. Highlights include a Parker VE Grade, est. at $12,500-17,500 and a High Art Ithaca Dollar Grade Knick Model Single Barrel Trap gun est. at $6,000-10,000. It also features a number of items from the Phil A. Bleakney collection of Winchester, Colt, and Civil War items, Rod Fuller collection of High Grade Brownings, William Henkel collection of Winchester Mod 70's, and the Robert Berg collection of Outstanding Sporting Arms, with one highlight being a Model 42 Gold Inlaid Walter Kolouch engraved 410 ga. shotgun, est. at $7,500-10,000.
The second session of the auction, the two day Extraordinary Firearms Auctions, begins Tuesday, October 6th and concludes on Wednesday, October 7th. This event features selections from some of the finest collections and estates, including the William West Estate Collection of Big Bore Double Rifles, the Estate Collection of Noted Author/Scholar Larry Baer, the Bura collection of rare Sporting guns, and many others.
The first day of the Extraordinary Firearms auction includes a spectacular assembly of sporting arms with highlights including Two Fabbri Titanium Action Pinless Sidelock Ejector Single Trigger O/U Game or Pigeon Guns, each est. at $100,000-150,000; a pair of Grifnee Engraved Holland and Holland Royal Deluxe Sidelocks, est. at $85,000-125,000; and a Ken Hunt Relief Sculpted James Purdey .410 Sidelock Ejector, est. at $80,000-120,000. In addition, this auction has probably the largest selection of high grade Brownings to come to auction, with over 100 fine examples represented. Perhaps the most outstanding is an Original Two Millionth Browning Auto-5 Presentation, est. at $65,000-95,000.
There's certain to be huge interest in this auction's fine collection of large sporting and big bore rifles. It's impossible not to notice a Holland and Holland Four Bore Double Elephant Rifle, est. at $60,000-90,000; the Golden Age Holland and Holland Royal Deluxe Hammerless Ejector Double Rifle in .577 Nitro Express, Most Likely Made For His Highness Sir Rana Ranjit Singhji of the State Of Barwani, est. at $60,000-100,000; and a John Rigby .470 Boxlock Ejector Double Rifle, once owned by Philip H. Percival - known as "The Dean of African Professional Hunters." Percival guided Teddy Roosevelt, Ernest Hemingway, and other celebrities on hunting adventures as well as inspired several of Hemingway's characters, including "Pop" of "Green Hills Of Africa." This firearm is est. at $75,000-150,000.
Tuesday's sale will also include spectacular factory engraved Marlins; many are from a single owner private collection. All eyes are certainly going to be on a Gold Inlaid Marlin Mod 1898 D-Grade Shotgun Two Barrel Set, est. at $55,000-75,000. Single Shot Rifles include a Developmental Pistol Grip Rigby Model Marlin Ballard Single Shot Target Rifle That Belonged to Famed Shooter, HG Bixby, with One of His Silver Trophies. This amazing presentation is est. at $20,000-30,000.
Wednesday, October 7th will include over 800 fabulous firearms. Highlights include a Deluxe Winchester Mod 1866 Carbine Made for King Alphonso XII of Spain, est. at $200,000-300,000; a Winchester Model 1865 "Patent Carbine" Serial Number 3, l est. at $125,000-175,000; and a rare Henry Model 1860 Engraved Lever Action Rifle With History To American Civil War General Edward McCook and King Kalakaua of Hawaii and Later to Princess Kawanakoa, est. at $150,000-250,000.
Quality Colts are also a standard at Julia's sales, and this auction will not disappoint. Premier examples include a cased Baby Paterson, est. at $150,000-250,000, and a cased pair of Mod 1860 Armies to Col. James Cameron, "Compliments of Col. Colt," est. at $100,000-150,000. Colt was an entrepreneur extraordinaire and at the outbreak of the Civil War and presented special Colts to all the right people. Cameron was Commander of the 79th N.Y. Highlander, later K.I.A. at Bull Run but most importantly to Colt was his brother Simeon Cameron, who was Lincoln's Secretary of War; Simeon also received a cased set from Colt. Other world-class Colt selections include a Nimschke engraved SA with ivory grips, est. at $40,000-60,000, and a rare and outstanding Colt Model 1875 Gatling gun on carriage with limber, est. $200,000-300,000.
This auction also features an amazing selection of Civil War and Indian War weapons and materials. Highlights include a New Orleans Cook rifle, est. at $25,000-35,000; a C.H. Rigdon CSA marked revolver est. at $40,000-60,000; and a selection of Confederate knives, with outstanding examples including a "TL Pruett" Prattville Alabama made D-Guard Bowie knife, est. at $20,000-25,000, and a rare American Silver Mounted Guardless "Coffin" hilt Bowie with its original scabbard, est. at $20,000-30,000. Important Confederate flags on offer in this category include an Army of Northern Virginia Battle Flag carried by Tucker's Naval Brigade under the command of Robert E. Lee at the Battle of Sailor's Creek, the last major military engagement of the Civil War. This fabulous rarity is est. at $125,000-250,000.
The latter part of Wednesday's sale will include outstanding Military and Class III items. Enthusiasts will be watching for a Colt SMG 3 Machine gun fully transferable in caliber 308. This is the very gun which was held back by Colt in the "Pattern Room; " it is est. at $150,000-250,000. Other category highlights include a Nazi-proof WWII ZB-26 machine gun with a presale est. of $13,000-18,000; a DWM Brass Maxim with carriage wheels, est. at $35,000-45,000; and a Swiss/UK Trials prototype Luger rig, est. at $60,000-90,000. But perhaps the most unusual - and largest - military item in Wednesday's session is a Cold War/Vietnam Era M59 Armored Personnel carrier, est. at $60,000-80,000.
According to Francis Lombardi, Department Head of Julia's Firearm division, "We are thrilled to be presenting our inaugural introduction of the new Sporting & Collector Firearms Session. In recent years, many collectors have asked us to consider expanding our offering and once we made the decision, there has been a tremendous amount of interest from both consignors and buyers alike. As always, we are proud, honored, and extremely excited with the superb array of rare and important items in our "Extraordinary" session which will take place on Oct. 6th and 7th. If you are interested in high end, quality firearms, this is unquestionably the most important firearms auction to take place this year."
About James D. Julia, Inc.:
James D. Julia, Inc., one of the top ten auction antique houses in the nation, is headquartered in Fairfield, Maine. The company also has an office in Woburn, Massachusetts, and operations in North Carolina, California, and Florida. In business for over 40 years, the company conducts high-end antique, collectible, and decorative arts auctions throughout the year. Julia's routinely establishes new world records through its sales events. Julia's has three key divisions, including rare firearms and militaria; fine and Asian art and antiques; and lamps and glass. Each division has been ranked nationally for excellence and is staffed with world-class specialists to insure fair and professional authentication, identification, and valuation services; the rare firearms division is the undisputed leader in its category.
For more information on James D. Julia, Inc. and the company's October Firearms Auctions, please visit http://www.jamesdjulia.com.