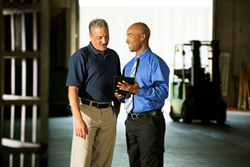 We are investing in and introducing new innovations that help us provide better service through technology, said Andrew Steiner, AmeriPride's Vice President of Marketing and Customer Operations.
Minneapolis, Minn. (PRWEB) September 24, 2015
AmeriPride Services, a leading textile rental services and supply company in North America, today announced the launch of its Complete Customer Care (C3) Mobile platform that provides their team of customer service managers with everything they need to service and support customers on a touch-screen tablet.
The Windows-based platform runs on Dell Venue tablets and provides the service team with access to accurate, real-time information such as customer program details, as well as any recent service requests, account changes and communications between the customer and AmeriPride. This information remains accessible throughout the day while working online or offline, and helps managers organize their service team's activities and plan more effective customer visits.
C3 Mobile also works in tandem with AmeriPride's new customer portal so that when a customer communicates an issue or need, the system immediately alerts the appropriate manager, ensuring a timely response and resolution.
"We recognize that technology is changing how people do business and our customers' service expectations are also changing," said Andrew Steiner, Vice President of Marketing and Customer Operations. "In response, we are investing in and introducing new innovations that help us provide better service through technology. Knowledge is power, and this new tool will allow our service managers to more effectively manage the customer relationship, resolve issues quickly, better train the service team and further grow our business."
AmeriPride's customer operations and information systems teams developed the new application in-house using the Windows platform and then submitted it to Microsoft for a comprehensive review.
"We were very impressed with the attention to detail that AmeriPride demonstrated as they developed this comprehensive platform" said Margaret Arakawa, GM US Windows & Devices. "They truly grasped Windows functionality to create an intuitive, user friendly application with both online and offline capabilities and were able to create a unique and customer-centric final product that rivals some of the best Windows work we have seen."
C3 Mobile is the latest phase of AmeriPride's comprehensive Complete Customer Care program that launched in 2009 with the goal of improving customer satisfaction through more frequent customer visitation and improved training for managers and service drivers.
Other new digital tools that AmeriPride launched in the last year to help improve the customer experience include an enhanced Web Store, Custom eStores to help qualified customers better manage their uniform programs, and a mobile-friendly Customer Portal which allows customers to access and pay bills online, view delivery dates for products and services, and communicate directly with their service team.
About AmeriPride
Headquartered in Minnetonka, Minn., AmeriPride Services is recognized as one of the largest textile rental and supply companies in North America. Operating more than 115 production facilities and service centers throughout the United States and Canada, the company provides linen and towels, uniforms, floor mats, restroom and cleaning products to nearly 150,000 customers through rental and purchase programs. As a true business partner, AmeriPride helps customers improve their image while keeping facilities clean and employees safe. Innovation, personalized service and a dedication to company values has sustained the private, family-owned company for more than 125 years. AmeriPride's demonstrated commitment to customers, the community, employees and the environment has made them the People You Can Count On. Additional company information can be found at http://www.ameripride.com.