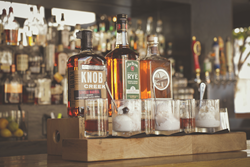 St. Louis, MO (PRWEB) September 24, 2015
After dinner drink or dessert? Gamlin Whiskey House and Clementine's Naughty & Nice Creamery have joined together to offer both at the same time with the new Boozy Ice Cream Flight. This combination of naughty ice cream and nice whiskey is a sharable dessert featuring three different ice creams paired with 1 oz. pours of whiskies for $40.
"We always like to partner with local businesses to bring fresh, new ideas to our guests. This new boozy ice cream flight it a great way for our guests to experience the uniqueness of St. Louis' food scene," says Gamlin Restaurant Group Proprietor Derek Gamlin.
The ice creams in the flight are each approximately 18% ABV (alcohol by volume) and were created using Gamlin Whiskey House signature cocktails.
The Boozy Ice Cream Flight features the following ice creams, with 1 oz. pours of each whiskey.

GWH Manhattan Ice Cream and Gamlin Whiskey House Knob Creek Single Barrel
Bees Knees Ice Cream and Jim Beam Rye
Old Fashioned Ice Cream and Rally Point Rye from St. Louis based Still 630
Additional images available here: https://gamlinrg.smugmug.com/GWH/Ice-Cream-Flights/
###
About Gamlin Restaurant Group
Selection, fresh flavors, the hottest spots for dining and drinking. These are what diners can expect at a Gamlin Restaurant Group restaurant. Founded by brothers Derek and Lucas Gamlin, the Gamlin Restaurant Group creates original bar and restaurant concepts that bring cutting-edge ideas to the St. Louis dining scene. What started with the largest vodka selection in the country, served alongside fresh sushi and gourmet burgers at Sub Zero Vodka Bar, 308 N. Euclid Ave., St. Louis, MO 63108, has grown into Gamlin Restaurant Group, which also includes Gamlin Whiskey House, at 236 N. Euclid, St. Louis, MO 63108, which is a Southern twist on a traditional steakhouse, offering more than 250 whiskeys and fine wines. Both restaurants have received national accolades, including being named Best Vodka Bar and one of the Best Whiskey Bars in the country by USA Today.