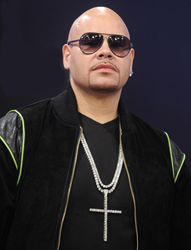 "...always a blessing to be welcomed by fans worldwide."
New York, NY (PRWEB) September 29, 2015
Latino/American rapper Joseph Antonio Cartagena, better known as Fat Joe, has left his mark on multiple international countries this year. In a few weeks, he will expand his reach and travel to Medellin, Colombia and the country's capital for the first time Oct. 16-18, 2015. He will perform at the Teatro Metropol in Bogotá as well as the TRYP Hotel Rooftop and Envy Rooftop by the Charlee Hotel in Medellin respectively.
His first concert begins around 8 p.m. on Oct. 16 at Teatro Metropol in Colombia's capital. The following night, he will perform at a TRYP night party club event around 11 p.m. His last performance will be poolside, beginning around 4 p.m. on Sunday, Oct. 18 at Envy Rooftop.
The South Bronx native has toured internationally throughout his 22-year career, but Colombia has not been a tour destination in the past. Fat Joe's booking agency, Frontline Entertainment Agency (FEA), has put forth efforts to make this opportunity possible.
"I look forward to performing for my Colombian fans," Cartagena said. "Traveling to countries I have not yet been never loses its thrill… always a blessing to be welcomed by fans worldwide."
This past Aug., Fat Joe made his first appearance in multiple Asian cities, performing at popular nightclubs in Tokyo, Hong Kong, and Singapore. The week-long tour was booked and managed by FEA.
For more information of Fat Joe's Colombian visit, please contact Oscar Amaya at (212) 810-0087 or email at amaya(at)frontlineagency(dot)com . For ticket information, visit vive.tuboleta.com.
Formed in 2000, Frontline Entertainment Agency (FEA) was founded on a new ideal for representing talent and cooperating with like-minded companies to accomplish their goals. In an ever-changing industry, FEA specializes in modern and innovative opportunities for its clients, acting in a variety of capacities from booking agent to management and consultant. FEA creates long term careers for its clients and strives to maintain a strong foundation and lasting relationships with its partners. FEA collaborations and clients have included VH1, MTV, KOOL Cigarettes, Playboy Enterprises, Monster Beverage Co., and more.