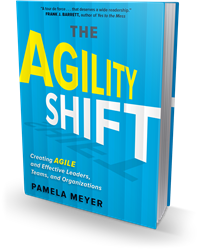 Leaders and organizations must expand their capacity to learn, adapt, and innovate when the unexpected strikes.
Boston, MA (PRWEB) September 29, 2015
Bibliomotion, Inc. is thrilled to announce the launch of THE AGILITY SHIFT: Creating Agile and Effective Leaders, Teams, and Organizations by Pamela Meyer, PhD.
DePaul University will host a book launch event at their Center for Creativity and Innovation on Thursday, October 22nd at 5:30PM (CDT).
Every person in every organization experiences the need to respond to the unexpected and unplanned. Perhaps a CEO or other key leader is leaving the company, or a new competitor enters the marketplace, or an important supplier suddenly goes out of business. When that time comes, each person will have a choice whether or not to make an "agility shift."
While most business schools prepare managers to be effective in stable and predictable environments, innovation expert Pamela Meyer believes that "planning" can sometimes be the worst thing a company can do.
In THE AGILITY SHIFT: Creating Agile and Effective Leaders, Teams, and Organizations (Bibliomotion, Inc.; September 29, 2015), Meyer makes strategic recommendations and provides personal accounts, case studies, and findings from neuroscience to show leaders how they can shift their mindset to be effective when the unexpected strikes.
"Agility requires relinquishing the illusion of control at the very foundation of most management training and business practice," Meyer says. "Despite most leaders' approaches, agility is not simply accelerated planning."
In the book, Meyer profiles four companies that successfully demonstrate how to make agility a regular part of their business, along with many other examples of agile best practices:

Mightybytes: A small group of developers hold daily "stand up meetings" to discuss the project's progress and to test the latest iteration of the application they are developing; the entire staff meets monthly for Lunch 'n' Learns to share new knowledge and skills needed to continue to innovate.
UPS: A driver receives real-time information on his mobile device, as well as one-on-one coaching during a ride-along with his immediate on-road supervisor; they both look forward to their morning three-minute PCM (pre-work communication meeting) for the latest safety tips and news.
Ericsson: Scrum masters ask what impediments the company encountered in the last innovation cycle, and immediately get to work removing them, while managers expand agile methodologies across the entire global company.
Umpqua Bank: A universal associate saves the day by delivering crucial documents (and a hot meal) when she learns her customer's husband is seriously ill and cannot come into the bank to sign papers; all Umpqua employees across almost four hundred locations gather at the start of each day for a "Motivational Moment" to get energized and build the relational knowledge necessary to sustain agility.
Each of these examples illustrate the ways that leaders, teams, and organizations in very different industries and settings make the agility shift each day, and even each moment, by expanding their capacity to learn, adapt, and innovate in the midst of change.
Meyer explains that making and sustaining this shift requires a commitment to the continuous development of the three Cs: competence, capacity, and confidence:
Agility competence consists of the skills, knowledge, and abilities necessary to respond to the unexpected and unplanned, as well as to find opportunities in new developments and emerging trends.
Agility capacity is the degree of uncertainty and volatility in which a person can be effective. For example, a team may have the competence to get a new product to market on a tight deadline, but it may not have the capacity to do so if the deadline changes several times, if the product specifications change, and/or if there is a worker strike at the manufacturing facility.
Agility confidence is the human need to trust in one's own and others' competence and capacity to be effective in changing contexts.
"To become truly agile," she explains, "leaders, teams, and entire organizations need to make a fundamental shift in order to innovate and thrive in unpredictable environments —one that begins with a mindset change and extends to a shift in models and methods followed at all levels of the organization."
In THE AGILITY SHIFT, readers will discover or have reaffirmed important business practices that enhance agility at every level of the system, including that of individual leaders, teams, the organization, and the entire business ecosystem. While shining a light on these aspects of the organization is not new, placing the human system at the center is a rare, and long overdue, approach. Each of the mind-set shifts, strategies, and specific practices described here are designed to set the foundation for sustainable business results.
Pamela Meyer, PhD is a premier Innovation Catalyst for business leaders who recognize they urgently need to shift their way of thinking and doing business to sustain their relevance and competitiveness in a rapidly changing market. A sought-after keynote speaker, she inspires audiences around the world with new perspectives and actionable ideas to become more agile and innovative.
The Agility Shift is Meyer's fourth book on innovation, learning and change. In addition to her speaking and consulting practice, Pamela teaches courses in business creativity, organizational change, and adult learning at DePaul University, School for New Learning in Chicago, where she is also the Director of the Center to Advance Education for Adults.
An Interview with Pamela Meyer, Author of The Agility Shift
Q: What prompted you to write this book?
Over the last 20 + years I have noticed a significant phenomenon among my client organizations and in management research: those that have continued to thrive have made a commitment to learn, adapt and innovate when things don't go as planned. Not only are they more effective at responding to the unexpected and unplanned, they are better at turning challenges into opportunities. I wanted to share these lessons with a wider audience of business leaders who urgently need new ways of thinking and doing business to stay competitive and relevant in a rapidly changing market.
Q: How do you define "Agility Shift" and why is it crucial for sustainable success?
The agility shift begins with a mindset shift from an over-reliance on planning and control, to one that balances these capacities with fluid communication, coordination and collaboration.
I discovered the six dynamics of the agility shift through my work and research over the last twenty years with everything from Fortune 500 companies to those with less than fifty employees. I saw that organizations that are consistently thriving in the midst of change are those that have high competence and capacity for these six dynamics.
Not only are agile firms filled with engaged, passionate people who are aligned with the mission and values of the organization, they are more profitable. An MIT Sloan School of Management study of 649 firms found that "agile firms grow revenue 37% faster and generate 30% higher profits than non-agile companies."
Agile organizations are fit organizations. Just like you can't expect to stay in shape just by buying a gym membership or working with a trainer for a few weeks—agile organizations make a long-term commitment to the best practices that I describe in the book
Q: What is the Relational Web and how can organizations use it to maximize agility?
This web is a personal and system-wide network for mutual support, coordination, resources, and idea sharing. Unlike other strictly operational approaches to agility, The Agility Shift puts individual, team, and organizational web of relationships, knowledge, and resources at the center. If we only think of our organizations as machines, we won't achieve maximum agility. Organizations are human systems and humans get things done in and through relationships. Leaders can expand their capacity for agility by tapping, sustaining and expanding their Relational Web.
Q: What are some of the major challenges companies face when they try to integrate agility into their business systems? How can they overcome them?
Perhaps the biggest challenge is our own mindset. From our earliest training in business schools and other workplace learning settings we are taught that the best insurance for organizational success is planning and analysis. These strategies are wonderful for stable contexts, when everything goes as planned, but that just isn't the reality today—for anyone. When leaders make the agility shift they shift from the mindset, strategies, and practices that only rely on planning to one that equally values preparing and the capacity to effectively respond to new opportunities and challenges.
Once we overcome our resistance to change and understand not just the business value, but the business imperative, we can begin developing new competencies and capacities for agility.
Q: What is VUCA and how can organizations use it to foster resilience in the workplace?
VUCA stands for Volatility, Uncertainty, Complexity and Ambiguity. The term was first coined by the US Army War College to describe changing conditions on the battle field and is now widely used a shorthand for the reality of doing business in a rapidly changing marketplace. Understanding this reality is an important step in shifting our business strategies and practices to be effective within it.
Q: By 2020, millennials will make up half of the global workforce. What can organizations do to recognize, recruit, and retain agile talent among this younger generation?
The agility shift is essential to attracting and retaining millennials. This generation is perfectly suited for success in a VUCA context. A recent PwC study of millennials (those born in the 1980s and '90s) confirmed what most of their parents and teachers have been saying for some time: they are more attuned to working in teams, value community, and are comfortable using technology for communication and collaboration. Not only are millennials particularly suited to effective action in changing conditions, they thrive in unsettled situations.
Q: You have developed the Agility Shift Inventory or ASI based on the concepts in the book. What is it and how can people take it?
The Agility Shift Inventory (ASI) offers individual leaders, teams, and entire organizations an opportunity to become more aware of the state of agility in their current context. This awareness is a great way to begin a generative conversation and receiving guidance about where your energy and resources will be most effectively spent to improve business performance. The ASI provides a snap shot of the six key dynamics of agility described in The Agility Shift. ASI serves as a catalyst and guide to improving performance. After taking the ASI you will receive a report summarizing your results along with The Agility Shift Generative Conversation Guide that will help you understand your results and improve your performance.
Readers can learn more about the ASI and take a complementary version at Pamela-Meyer.com
Praise for The Agility Shift
"This book is a tour de force for leaders at every level who must develop a capacity to experiment, adapt, and learn amidst a turbulent VUCA environment. Meyer offers insight that ranges from neurobiology to relational webs; stories that range from leaders of major corporations to UPS managers; the challenges that range from recruiting agile leaders to creating cultures that nurture them. Covering a wide terrain at such a deep level, this is an important book that deserves a wide readership." – Frank J. Barrett, author of Yes to the Mess: Surprising Leadership Lessons
"Meyer provides a powerful framework and accompanying suggestions… to help you immediately start creating an effective culture of agile leaders and teams." – DeBorah Lenchard, Director of Education & Talent Development, Spot Trading LLC
"Brilliant yet simple, The Agility Shift is a must-read for all professionals and will serve as a useful practical guide in today's constantly changing business environment." – Rohit Manchanda, Trade & Investment Commissioner, India, New South Wales Government, Mumbai
"Detailed and highly entertaining… Brimming with compelling examples of agility in action, this is an essential guide to a new and more effective organizational approach." – Tom Barr, Ph.D., Knowledge Manager, Enablon North America Corp
"Clear and insightful… The Agility Shift is packed with relevant and diverse examples that drive significant points about intentionally transforming organizational life." – Lisa Gundry, Ph.D., Professor and Director, Center for Creativity and Innovation, DePaul University
"A must-read… Meyer brings a unique combination of personal and professional experience and her practical approach and tools can help leaders, individuals, teams, and organizations make the shift to being more responsive, innovative and agile. I highly recommend this book!" – Ann Manikas, VP of Human Resources and Inclusion, United Way of Metropolitan Chicago
"The Agility Shift makes clear that if we want to survive and thrive (in good times and in crisis), all individuals, teams, and organizations must make a strategic priority of becoming more agile. Just as importantly, she lays out recommendations for how to do it." – Greg Owen-Boger, co-author, The Orderly Conversation: Business Presentations Redefined