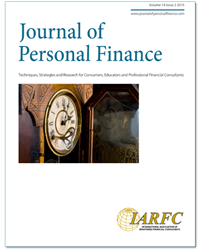 These academic papers along with our day-to-day practice management tools provide a well rounded education for our members... IARFC Chairman, H. Stephen Bailey
Middletown, OH (PRWEB) September 25, 2015
Initiated in 2002, the Journal has grown in scope, acceptance and recognition among practitioners and academicians. Additionally, the Journal welcomes articles from practicing financial professionals and consultants about financial products and services, client relationships, retirement planning, long term care, practice management, and firm operational efficiencies.
"Our Journal presents in depth research on pertinent financial topics." explains H. Stephen Bailey, RFC® and Chairman of the Association. "These academic papers along with our day-to-day practice management tools provide a well rounded education for our members."
Six articles are included in the Fall Volume 14, Issue 2. Topics explored are: financial sophistication in retirement preparedness, subjective assessment of financial wellbeing, factors related to making investment mistakes in a down market, evaluation of four retirement spending models, simplifying RIA oversight and financial planning research needs. Contributors to this edition include: Kyoung Tae Kim, Ph.D., Sherman D. Hanna, Ph.D., Steven A. Sass, Ph.D., Anek Balbase, M.P.A., Thomas Cooperrider, Jorge D. Ramos-Mercado, Shan Lei, Ph.D., Rui Yao, Ph.D., CFP™, James S. Welch Jr., Guy Baker, Ph.D., Joseph A. Tomlinson, FSA, CFP™, RFC®.
Co-editor Wade Pfau, Ph.D., CFA, RFC® is a Professor of Retirement Income in the new Ph.D. program for Financial and Retirement Planning at The American College in Bryn Mawr, PA. Joseph Tomlinson, FSA, CFP™, RFC® of Financial Planning LLC Greenville, ME is an actuary and financial planner who devotes most of his time to research and writing on investments, financial products, financial planning, retirement planning, and retirement systems.
"This is the last issue for co-editor Joseph Tomlinson," related IARFC Board Director and Adjunct Professor at Webster and North Greenville Universities, Jon M. Rogers, Ph.D. & RFC®. "His dedication to this publication has been greatly appreciated by the Board of Directors and the IARFC membership."
The Journal of Personal Finance is a member benefit of the IARFC. To order a hard copy or electronic version of the Journal, to find out more information or to review article submission guidelines, go to http://www.journalofpersonalfinance.com or contact the editors.