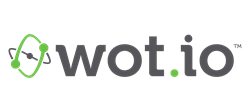 New York, NY (PRWEB) September 25, 2015
wot.io, the data service exchange for connected device platforms, introduces Ship IoT for enterprise and industrial channel partners and customers, enabling Internet of Things (IoT) solutions to be quickly built based on a core set of data services, including Circonus, Scriptr.io, and bip.io. Ship IoT will be showcased at Maker Faire New York with Kinoma Create, the comprehensive JavaScript-powered IoT prototyping product, in the Maker Pavilion.
Ship IoT bundles popular data services for building IoT applications and includes support for:

Circonus' unified platform combines extensive visualization with alerting, event processing and advanced analytics tools,
Scriptr.io's cloud-based backend for IoT, mobile and web applications that provides a flexible JavaScript based scripting engine and web based IDE,
bip.io's Web API Automation with connection to 75+ services including Productivity (e.g. Google Drive, Dropbox), Messaging (e.g. MailChimp, Twilio), Social (e.g. Twitter, Facebook), Analytics (e.g. AlchemyAPI, Keen.io), and other services. bip.io is owned by wot.io.
At Maker Faire® New York, wot.io is showcasing Ship IoT with Kinoma Create, the JavaScript-powered IoT device construction kit. The combination enables Kinoma developers access to the Ship IoT bundle.
"wot.io is dedicated to helping their customers deliver IoT applications and services, faster and better than their competitors," said Christian Madsen, CEO of Circonus. "Working together, Circonus and wot.io deliver innovative, pre-integrated solutions that are quickly deployed and just as quickly prove their value."
"Scriptr.io is an integral part of Ship IoT and provides an easy way for developers to code business logic using Javascript. This enables the rapid development and ease of maintenance for building IoT applications," said Rabih Nassar, Founder & CEO of Scriptr.
"bip.io opens a whole world of services to someone building an IoT application. bip.io enables building complex workflows suitable for IoT applications thorugh an easy to use GUI environment. For example, a developer can easily set up an automated Tweet, email message, data logging, and analytics," said Michael Pearson, Founder of bip.io.
"wot.io's Ship IoT enables developers to quickly build IoT applications by leveraging a core set of pre-integrated IoT data services of our partners: Circonus, Scriptr.io, and bip.io. Enterprise customers can then take their IoT applications to production with the wot.io data service exchange. Through choice, time-to-market, and scalability, wot.io helps its customers drive ROI and increase revenue," said Mitchell Golner, VP Product Management.
For more information about Ship IoT, visit wot.io/shipiot
Visit wot.io at Maker Faire New York in Kinoma's booth, located in the Maker Pavilion, Zone 3.
About Circonus
Circonus provides Big Data analytics and monitoring for Web-Scale IT. Developed specifically for the requirements of DevOps, the Circonus platform delivers alerts, graphs, dashboards, and machine-learning intelligence that help to optimize not just your operations, but also your business. Proprietary Big Data technology and IT Operations Analytics tools enable Circonus to provide forensic, predictive, and automated analytics capabilities that no other product can match, and at a scale that other products can only dream of.
About Sciptr
Scriptr.io provides IoT applications with powerful cloud based business logic and web services through a simple and powerful browser based IDE. It allows solution developers to create custom web-services instantly with the simplicity of JavaScript & the scalability of the cloud while removing the chores associated with server and application stack management. Check out scriptr.io's website, where you can test drive the product and create your own workspace, and catch up with the latest news via their blog, Twitter, and Facebook.
About wot.io
Founded in 2014, wot.io is the data service exchange for connected device platforms. wot.io enables the enterprise customer to derive significant value from their data while dramatically accelerating time-to-market for Internet of Things (IoT) and Machine to Machine (M2M) implementations. wot.io's data service exchange of best-in-class data services enables customers to focus on building their solution while freeing them from the time consuming effort of making contractual agreements and technically integrating each data service. Through choice, time-to-market and scalability we help our customers to drive ROI and increase revenue with their solution using analytics, business intelligence, data retention, device management, data management, monitoring, visualization, reporting, web API automation and other offerings.
wot.io and its logo, and data service exchange are trademarks of WoT.io, Inc. All other company or product names, brands, trademarks, and logos are the property of their respective owners. All rights reserved.
###