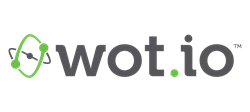 New York, NY (PRWEB) September 24, 2015
wot.io™, the data service exchange™ for connected device platforms, launched a system integrator (SI) partner program today designed to accelerate customers' time to market. The program involves system integrators and engineering organizations that focus on building out a range of Internet of Things (IoT) and Machine to Machine (M2M) solutions across multiple IoT vertical markets. The company is looking for domain experts in Big Data, wireless communications and IoT application developers, in addition to vertical segment expertise.
"Growing a strong network of IoT/M2M system integrators is key to both our and our customers' success. The wot.io-SI partnerships bring our customers' IoT solutions to market, while allowing us to leverage a strong sales channel in the IoT ecosystem," said Mike Jeronis, Founder and COO of wot.io. "From the outset, we made a conscious decision to partner with professional service organizations rather than build the capability within wot.io. This allows our customers to capitalize on the strengths of the system integrators, who have deep knowledge and expertise in multiple verticals and engineering domain spaces, and the power of wot.io to bring their IoT solutions to market."
"As our IoT practice was growing rapidly, we immediately saw the value in wot.io's Data Service Exchange" said Mitch Maiman, President of Intelligent Product Solutions. "With the wot.io offering, IPS can fine tune our customers' product designs by selecting the right applications from wot.io's portfolio of Data Services and then quickly deploy solutions to the cloud or on-premises."
"The wot.io platform allows us to focus on the things that we're really good at," said Steve Caudill, Managing Partner at Ideology. "At Ideology we know how to realize the value of your data and wot.io enables us to accelerate the build out of our customers' solutions."
SI partners in the wot.io program include the following companies:

Intelligent Product Solutions (IPS) - a leading product development organization that develops IoT solutions that leverage the wot.io operating environment and its ecosystem to provide hardware and software engineering services for IoT products from ideation to design for manufacturing. http://intelligentproduct.solutions/
Ideology - provides IoT technology solutions, including design, acquisition, interconnectivity, integration, and analytics. ideologyllc.com
Serendio - a company whose mission is to help every company transform itself into a Data-driven organization by providing innovative products and solutions based on Big Data, Machine Learning and Text Mining. http://www.serendio.com
Maven Systems - develops products in M2M/IoT space in the domains of street lighting, smart metering, energy monitoring, remote monitoring and medical wearables. http://mavensystems.com
About wot.io
Founded in 2014, wot.io is the data service exchange for connected device platforms. wot.io enables the enterprise customer to derive significant value from their data while dramatically accelerating time-to-market for Internet of Things (IoT) and Machine to Machine (M2M) implementations. wot.io's data service exchange of best-in-class data services enables customers to focus on building their solution while freeing them from the time consuming effort of making contractual agreements and technically integrating each data service. Through choice, time-to-market and scalability we help our customers to drive ROI and increase revenue with their solution using analytics, business intelligence, data retention, device management, data management, monitoring, visualization, reporting, web API automation and other offerings.
wot.io and its logo, and data service exchange are trademarks of wot.io, inc. All other company or product names, brands, trademarks, and logos are the property of their respective owners. All rights reserved.
# # #