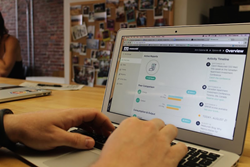 "Measurabl has gained incredible traction and is solving important global problems around energy, climate and corporate transparency. They're a great blend of what San Diego has to offer." - Mike Krenn, President San Diego Venture Group
San Diego, CA (PRWEB) September 29, 2015
Measurabl, the start-up for sustainability data, reporting and energy efficiency has again been recognized as one of the hottest technology start-up by the hi-tech and venture capital community, this time being listed among San Diego's "top tech start-ups to watch in 2016" by Xconomy. The distinction coincided with Measurabl being included among 6 top tech start-ups to present at San Diego Venture Summit, Southern California's largest gathering of venture capitalists.
"We're pleased to have Measurabl participate - they've gained incredible traction and are solving important global problems around energy, climate and corporate transparency" said Mike Krenn, President of San Diego Venture Group. "They're a great blend of what San Diego has to offer."
Measurabl has won global praise for making enterprise-quality software available to companies of any size at low cost. This has enabled over 100 companies to collect, report and optimize their sustainability impacts to-date.The Global Cleantech Cluster named Measurabl the world's #1 cleantech start-up in 2014 for its blistering adoption and freemium business model, which is unique in its industry. Measurabl customers include some of the world's largest real estate companies like CBRE Global Investors and Clarion Partners, publicly traded corporations like VMware and Intuit, and small businesses who want to track and improve energy, carbon and water performance.
Since Measurabl's founding in 2013, every single company using its sustainability automation software has gone on to substantially improve their overall sustainability performance. Recently published results from the Global Real Estate Sustainability Benchmark - the global standard for how real estate owners, developers and asset managers disclose environmental and social impacts - show 100% of Measurabl users representing several hundred million square feet of commercial property improved their sustainability performance from the previous reporting year. GRESB has $6 trillion in investor capital supporting its standard of sustainability reporting.