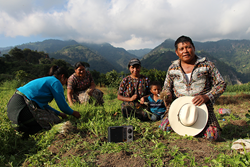 In the countries where Unbound works, [families] experience the effects of climate change daily.
Kansas City, Kan. (PRWEB) September 24, 2015
Unbound, the largest nonprofit in Kansas, serves people living in poverty in 20 countries around the world and urges world leaders to recognize Pope Francis' call, in his speech to the U.S. Congress, "for a courageous effort… to avert the most serious effects of the environmental deterioration caused by human activity."
Climate change is not a political debate for many farmers in the Unbound program. It's a challenge to the only way of life they know.
Irma is the mother of two sponsored girls in Guatemala. She has worked the land since she was a little girl growing corn, beans, radishes and onions.
Now, she says, "Times are strange."
"When I was a little girl we got the right amount of rain," Irma said. "Our onions would grow well but now we don't know if they will grow. …It rains when we don't expect it, and there are droughts during the rainy season."
The end result of the change in seasons: few vegetables to eat or to sell.
Erratic weather makes life difficult for Unbound families across the world.
"In the countries where Unbound works," said Dan Pearson, director of international programs, "[families] experience the effects of climate change daily."
"Families feel the effects in more frequent, powerful and destructive typhoons (Philippines); hurricanes (Mexico, the Dominican Republic, Central America); deforestation leading to mudslides (Guatemala) and drought and desertification (Kenya). In addition, climate change is also responsible for extreme heat and irregular weather patterns, such as the recent heatwave in India that killed more than 2,300 people," Pearson said.
Irma worries about deforestation in the mountains of Guatemala where she lives. It has led to disastrous mudslides after heavy rains.
"When we have too much rain it is scary because we live surrounded by mountains and we have mudslides and water comes into our houses," Irma said.
Unbound helps families by providing trees to offset the devastating effects of deforestation, along with seeds, fertilizer and farm equipment.
But families like Irma's need more.
"Now is the time for courageous actions and strategies aimed at implementing a 'culture of care' and an integrated approach to combating poverty, restoring dignity to the excluded and at the same time protecting nature." Pope Francis said.
Irma wholeheartedly agrees.
"When my onions don't grow, I lose the chance to provide for my children."
About Unbound
Unbound is the largest nonprofit organization in Kansas with more than $120 million in annual revenue. Unbound works side by side with people of diverse faiths in 20 countries, bringing people together to challenge poverty in new and innovative ways.
Unbound distributes direct aid as quickly and efficiently as possible to people who need it. 92.5 percent of Unbound's expenses go toward program support.
###