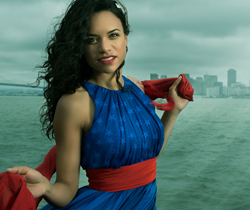 I'm so excited to sing the Star Spangled Banner at Lambeau Field, one of our nation's most historic sports arenas.
Grand Rapids, MI (PRWEB) September 25, 2015
Independent recording artist Amanda Vernon released a new music video this week for the international competition ArtPrize. Her entry "Justice for All" chronicles the true story of a U.S. soldier's reunion with his wife after his overseas mission, returning just in time for the birth of their first child. Juxtaposed with this heart-warming visual narration are stark examples of injustice in the U.S. today (think: inequality in the judicial system, human trafficking). Releasing the video before her upcoming music performance on "Monday Night Football," Vernon poses this question in the lyrics, "America, do you recall, justice for all?"
Winner of the ArtPrize 2013 pop/electronic music genre, Amanda returns to the competition with a multimedia exhibit. In addition to the music video, the entry includes a unique musical instrument (by West-Michigan sculptor Roli Mancera), her 7th studio album, and live performances throughout the course of ArtPrize. Describing the song, Vernon says, "The lyrics raise up the virtue of justice as a 'shield of love,' for people of every background."
Having shared her music across the U.S. and in 6 foreign countries, Vernon isn't new to audiences of diverse backgrounds. In 2014, she sang the National Anthem at a Green Bay Packers exhibition game. She'll repeat her appearance on September 28th at 8:30pm ET, in front of a sold-out crowd plus roughly 13 million ESPN viewers. "I'm so excited to sing the Star Spangled Banner at Lambeau Field, one of our nation's most historic sports arenas. The timing during ArtPrize is amazing," says Vernon.
Residing in the San Francisco Bay Area with her husband and their three young children, this 28-year-old singer/songwriter teamed with sponsors from her hometown of Grand Rapids, MI to make her ArtPrize entry a reality: Genius Phone Repair, John J. Oleck, Realtor with Berkshire Hathaway, Mike and Sue Jandernoa, Nawara Brothers Home Store, and Tacos El Cuñado (who will sell Mexican cuisine during Amanda's multiple outdoor lunchtime concerts at the St. Cecilia Music Center during ArtPrize).
On October 3rd at 4:00 PM, Amanda will perform a concert on the Blue Bridge in downtown Grand Rapids, playing a grand piano over the river, featuring the Aquinas College Choir. In ArtPrize 2013, her Blue Bridge "busking" was attended by hundreds. Amanda hopes to build on her previous success by promoting a message of social justice and winning the $200,000 grand prize of ArtPrize. For more information, concert schedule, and to view the "Justice for All" music video, visit amandavernon.com.