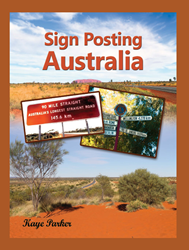 Little Grove, WA (PRWEB) September 26, 2015
How does one display the beauty that is Australia? In 2013, author Kaye Parker and her partner Doug travelled throughout the country and captured the beautiful spots and sites of Australia. She photographed the images from her car window as she circumnavigated the country. All the images in this book, Sign Posting Australia, were taken by the author herself.
The author invites everyone to explore new horizons, to look through windows of discovery, and to be in awe of Australia's beauty and uniqueness.
Australia is home to one of the world's oldest living cultures. Today, Australia is one of the world's most multicultural countries. Australia's history has substance, uniqueness and astonishing beauty. From tropical northern rainforests to deserts of the Red Centre, from snowfields in the south east to Tasmania and the Australian Antarctic Territory, from the lush southern forests to the stunning rugged outback, Australia is a vast and varied country that's ready to be explored, experienced, and enjoyed.
For those armchair travellers, those who can't make the long drives and flights, or those who don't have the time to discover the different amazing places in Australia, this book is definitely a treat to treasure.
The book is available online and can be purchased at http://www.bookventure.com, http://www.amazon.com and http://www.barnesandnoble.com
About the Author
Kaye Parker has lived in the historical city of Albany on the southern coast of Western Australia for most of her life, although she was born in the picturesque town of Denmark some fifty kilometres west. She is a sister, a mother of four, and a granny to eight beautiful grandchildren. She is a partner to Doug, who is a musician and singer, and is a loyal best friend to a precious few. She enjoys a life close to nature and she loves the solitude of her home amongst the coastal gums and peppermint trees near Albany.
She began writing poetry in 1988 whilst travelling throughout Australia in a kombi van. She later self-published her works in two books, See with your Heart and Voices by the Sea (a compilation of her works and poems from Albany women). She enjoys watercolour painting, writing and improving her self-realisation.
Sign Posting Australia
by Kaye Parker
Publication Date: September 2015
Price: $100.50; 320 pages; ISBN 978-1-941736-47-0
*To request a complimentary paperback review copy, you may contact Laura Tan at Bookventure.com by phone at (877) 276-9751 or by email at info(at)bookventure(dot)com.