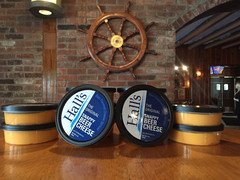 "We love the Beer Cheese at Hall's On The River." (Southern Living Magazine)
Stamford, CT (PRWEB) October 14, 2015
Des Hague, Co-Founder of Aegis Enterprises LLC., announces an investment in Central Kentucky's Hall's Snappy Beer Cheese. This regional specialty has been produced at the legendary Hall's On The River restaurant for over 5 decades. "You can open any fridge in Kentucky and find a tub of Hall's beer cheese in there," says Amber Huffman (as quoted from Food & Wine Magazine). "It's one of the regional dishes Jess Jackson likes to eat when he's here."
"Once you've tasted Hall's Snappy Beer Cheese it's a product you don't easily forget," said Hague, "and there is a good reason why Hall's continues to receive positive press in major national magazines like Food & Wine and Southern Living, as well as a recent article in the Wall Street Journal. I have been involved in the food retail and hospitality industry for most of my career. Over that time I have always been on the lookout for signature products and have a proven track record for creating winning products and brands. I knew the second I sampled this product that it was something very special. Hall's Snappy Beer Cheese is today a local delicacy but it has national legs. The product beat out its competitors earlier in the year and with the right insights and product development efforts I am convinced that this is a product that will be seen on national retailer shelves and featured at high profile events. I am delighted to invest in the brand and look forward to helping it grow nationally and globally."
"The brand has a fifty-year following and we know that the leadership and expertise that Des brings will be invaluable as we look to accelerate our growth in the years to come," stated Karl Crase, owner of Hall's On The River restaurant.
For more information about Snappy Beer Cheese: http://www.beercheese.com/, https://www.facebook.com/HallsOnTheRiver.
About Des Hague
A renowned executive with over twenty-five years of leading global public and private companies, Des Hague has established himself as an innovative thinker in the international business world. (deshaguereviews.com). His forward-thinking approach pushes companies toward sustainable growth, granting them a position as resilient competitors within their respective industries. Hague most recently was the CEO and President of Centerplate, Inc, the largest event hospitality firm in North America. source: http://deshague.com . Hague also serves on the boards of DVETelepresence, PING HD, WC&A, Inc, the Stamford Youth Foundation and Lessons For Life, along with advising on several start-up ventures.
Along with his professional projects, Des Hague contributes significant amounts of time and energy to non-profit charitable work. Hague has helped raise more than $100 million over the past few years for many non-profits, including the Stamford Youth Foundation, a local organization offering multiple after-school programs for young people, and The Journey Home, a Baltimore-based Foundation fighting homelessness. Hague views Aegis Enterprises, LLC. as a perfect blending of business and philanthropic activities.
For more about Des Hague, visit: http://deshague.com
Des Hague - LinkedIn : https://www.linkedin.com/in/deshague
Contact:
DesHague.com
EMail: deshague(at)aegisenterprisesllc(dot)com