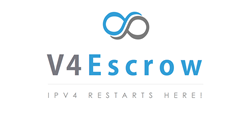 It's not totally impossible to find IPv4 addresses, but it is becoming increasingly difficult and there is going to be a cost involved now, where there previously had been none.
Las Vegas (PRWEB) September 25, 2015
Trees, fossil fuels, drinking water – add one more thing to the list of resources we're worried about running out of: IP addresses.
In July of this year, the online IPv4 Depletion Countdown on hosted on the American Registry for Internet Numbers (ARIN) website showed over 130,000 IP addresses available for distribution. In late August, ARIN reported they had obtained a quarter million more; yet, ARIN announced yesterday that it has zero IPs available. This leaves American businesses with little choice but to turn to IP escrow services to help meet business growth demands over the next few years. V4Escrow is pleased to announce their IP escrow service, which is prepared to help businesses meet both immediate and future IP resource requirements.
Where have all the IPs gone?
"You have to remember that every single Internet-connected device needs its own IP address," said Elvis Daniel Velea, CEO of V4Escrow. "In an office with 100 computers, 100 smart phones and 10 wireless printers, you need 210 IP addresses. And that's before we get into the backend servers or IP-based phone systems – today even the thermostat has its own IP address."
ARIN is a Regional Internet Registry (RIR) that manages and coordinates Internet resources for most of North America. According to Velea, the equivalent communities in Europe (RIPE), Asia (APNIC), and Latin America (LACNIC) have been more careful with their future planning and have set forth policies to allow allocation of a few IP addresses (between 1024 and 2048 per company) to newcomers for the next 3-5 years.
"The ARIN community – for whatever reason – has not followed suit," Velea said. "This means North American start-up businesses looking to establish an online presence will have to purchase IP addresses through a broker."
ARIN advises that organizations looking for additional IP resources can be added to their Waiting List for Unmet Requests, which, as of yesterday, included 65 organizations in need of more than 850,000 IP addresses. Those groups will then be first in line for any addresses that ARIN revokes from other businesses or receives from the Internet Assigned numbers Authority (IANA), the Internet's global coordinator of IP addresses. IANA distributed 250,000+ additional addresses to ARIN back in August, and those addresses lasted less than 24 hours. Their next scheduled distribution to ARIN is expected to come in March of 2016, although that will only contain about 130,000 IPs – just enough to meet the demands of the first organization on the wait list.
"The prognosis for those other 64 organizations' requests seems rather bleak," Velea said.
The long-term solution to this issue is a move from the existing IPv4's 32-bit IP-address format to IPv6's 128-bit format. To put that difference in perspective, a router that currently has the IPv4 address 192.168.1.1 could be 2001:0db8:abcd:ef01:beef:2345:cafe:1234 under the IPv6 standard.
On the bright side, while all 4 billion available IPv4 addresses have now been allocated, the chances of ever filling the more than 340 undecillion (that's 340, followed by 36 zeros) potential IPv6 addresses are slim to none. However, for businesses with thousands (and even millions) of IPv4 addresses already registered, this transition to IPv6 is neither quick nor inexpensive. To add to the confusion, until the IPv6 migration is complete, every organization will need to use at least a few IPv4 addresses.
Velea, who saw this shortage coming, built V4Escrow as a marketplace to allow for the sale and transfer of currently assigned – but unused – IP addresses from one organization to another. The IPv6 adoption in the U.S. is currently around 21 percent complete, with global adoption just under nine percent. Until businesses have the time and resources available to accomplish this change-over, third-party brokers like V4Escrow will be their only option to continue expanding.
ARIN addressed this option with a policy change announced yesterday: "Effective today, because exhaustion of the ARIN IPv4 free pool has occurred for the first time, there is no longer a restriction on how often organizations may request transfers to specified recipients."
This is good news for V4Escrow and similar organizations.
"We're now seeing a supply-and-demand issue as North American businesses need those IPv4 address to sustain their growth," Velea said. "It's not totally impossible to find these addresses, but it is becoming increasingly difficult and there is going to be a cost involved now, where there previously had been none."
For the vast majority of businesses, the cost of employing an IP escrow service is currently much less than the cost of transitioning to IPv6, which means business will continue to pick up for Velea and his cohorts.
"Yes, business is good. It's very good. In fact, we're looking to hire more staff in the U.S. to meet the demand that we have spent years preparing for," Velea admitted with a smile.
About V4Escrow
As an IP broker, V4Escrow's highly efficient IP exchange processes and proven team of professional staff secure the best value for both buyer and seller. In fact, V4Escrow guarantees the best counterparty fee for the purchase or sale of IP addresses though its system. V4Escrow has brokered or been party to the largest IPv4 transfers in the RIPE region (Europe, Russia, and the Middle East). V4Escrow's professional staff have previously worked for buyers, sellers and regional internet registries (RIRs) – giving them insight into every aspect of the IP transfer process. For more information, visit http://www.v4escrow.net.
Qualified technical sales experts with experience dealing with U.S.-based network operators should send their resumes directly to jobs(at)v4escrow(dot)net.