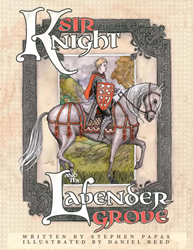 Brisbane, AU (PRWEB) October 07, 2015
For all lovers of poetry and everyone who loves a compelling fairy tale, Sir Knight and the Lavender Grove is an endearing story that follows a wandering knight who returns from a long, fruitless journey to find a magical hidden world and a cause to rise to heroism.
Sir Knight takes rest beneath a full moon one autumn's eve. He follows the sounds of music into a nearby grove where he discovers a mystical 'faerie-meet' with reveling faeries, elves, pixies and sprites. Sir Knight becomes enthralled by the magical song of a beautiful wood nymph, adorned in lavender, and the hours pass. But the reverie is abruptly ended when the faerie-kin all flee, and the Beast enters the grove. Sir Knight is alarmed to see the nymph apparently unaware of her imminent doom. Sir Knight boldly challenges the Beast and after a long moonlit fight, finally defeats it. When Sir Knight returns to seek the nymph, he is distraught to learn that she has died.
Sir Knight is lulled into a magical sleep and wakes to find he is cradling an armful of lavender which he spreads throughout the trees. Readers are about to find out what happens with the lavender and how Sir Knight makes peace of what happened to the singing nymph in this illustrated poetry book.
This book is available online and can be purchased at http://www.bookventure.com, http://www.amazon.com and http://www.barnesandnoble.com.
About the Author
Stephen Papas is an orthodontist who lives in Brisbane, Australia. He wrote the poem Sir Knight and the Lavender Grove for his wife many years ago and unearthed it recently for his two children.
Sir Knight and the Lavender Grove
by Stephen Papas
Publication Date: April 2015
Price: $16.50; 40 pages; ISBN 978-1-943265-00-8
*To request a complimentary paperback review copy, you may contact Laura Tan at Bookventure.com by phone at (877) 276-9751 or by email at info(at)bookventure(dot)com.