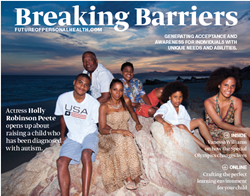 (PRWEB) September 25, 2015
The print component of "Breaking Barriers" is distributed within this weekend's edition of USA Today, with a circulation of approximately 250,000 copies and an estimated readership of 750,000. The digital component is distributed nationally, through a vast social media strategy, and across a network of top news sites and partner outlets. To export the digital version of the campaign, click here.
Actress, mother and devoted advocate Holly Robinson Peete graces the cover of the print publication. In an exclusive interview, she discusses her experience as a parent raising a child with Autism. Peete describes the challenges of providing care and support to her son RJ, who was diagnosed with autism at a young age. She tells readers, "I wouldn't change my son for the world, though I will attempt to change the world for my son."
Also inside: Special Olympics global ambassador, actress and singer Vanessa Williams discusses how the organization helps to change the lives of people with disabilities. Williams, who has been involved with the Special Olympics for over 20 years, explains the importance of physical activity for people with intellectual disabilities and how the Special Olympics can provide a sense of inclusion and success within the community. She also describes her experience at the 2015 Summer Games recently held in Los Angeles.
This campaign was made possible with the support of Purposeful Architecture, The Arc, MetLife Center for Special Needs Planning, Community Gatepath, The Daniel Jordan Fiddle Foundation, Global Disability Inclusion, Ernst & Young, Els for Autism, Autism Society of America, The Special Olympics, CITGO, Bank of America and many more.
About Mediaplanet
Mediaplanet is the leading independent publisher of content-marketing campaigns covering a variety of topics and industries. We turn consumer interest into action by providing readers with motivational editorial, pairing it with relevant advertisers and distributing it within top newspapers and online platforms around the world.