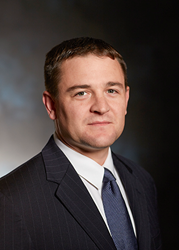 The path to recovering insurance benefits for our clients does not always follow a straight line. Our skills lie in deeply understanding coverage issues, cutting through the complexity, and crafting the best solution for our clients
Portland, Ore. (PRWEB) September 26, 2015
Nicholas A. Thede joined Ball Janik LLP in its Insurance Recovery, Construction Defect, and Litigation practices effective on September 1, 2015. Mr. Thede is an insurance recovery litigator who represents policyholders in complex insurance coverage disputes. He has advised clients in a wide variety of insurance disputes, including claims arising under general liability, professional liability, directors and officers, employee dishonesty, homeowners, and automotive insurance policies. Thede has successfully represented clients in trials, arbitrations, and appeals, and has obtained numerous favorable settlements for his clients. He has handled insurance disputes throughout Oregon and Washington, along with several other jurisdictions. Mr. Thede has substantial experience litigating claims for insurance "bad faith" and recovery of attorney fees in a variety of settings.
Thede has been recognized by his peers as a "Rising Star" in the area of Insurance Coverage litigation by Oregon Super Lawyers magazine from 2013-2015. He regularly presents and writes on a variety of insurance coverage issues, including on the insurance implications of the sharing economy and extra-contractual insurance claims available to policyholders.
Prior to joining Ball Janik, Thede was a shareholder at a boutique insurance coverage law firm in Portland and a litigation associate at a regional law firm, where he gained valuable experience advising clients on a variety of insurance coverage matters. At his prior firms, the majority of Mr. Thede's experience was obtained while representing insurance companies, which allowed him to gain valuable insight regarding the claim handling and litigation practices and procedures implemented by insurance companies. His prior experience allows Mr. Thede to better represent his clients by effectively responding to the position of the insurance company and advocating for the policyholder.
His legal career began as an intellectual property attorney at a small Portland firm. While there, Mr. Thede advised clients regarding patent, trademark, copyright, and trade secret matters. Given his diverse experience, Mr. Thede is uniquely qualified to seek insurance benefits for policyholders seeking insurance coverage for intellectual property disputes.
Thede earned his J.D. cum laude, from the University of New Hampshire School of Law in 2007 and his B.S. in Computer Science from the University of Portland in 2004.
About Ball Janik LLP
Ball Janik LLP is a Pacific Northwest law firm headquartered in Portland, Oregon. For over thirty years, Ball Janik LLP has been providing outstanding legal services in the areas of bankruptcy and creditor rights, commercial litigation, construction and design, construction litigation, employment, real estate and land use, insurance recovery for policyholders, and securities litigation.
Ball Janik LLP represents large and small businesses; state, municipal and local governments; associations; schools and universities; and individuals. Ball Janik LLP provides clients an aggressive, skilled, team approach to solve problems and achieve results. Ball Janik LLP has been recognized by Chambers USA, U.S. News & World Report, The Best Lawyers in America®, and Corporate International. Ball Janik LLP's success and integrity have repeatedly made it one of Oregon's "Most Admired Professional Firms," according to the Portland Business Journal's survey results of CEOs throughout the region.