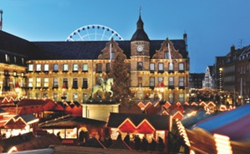 One of the most beautiful Christmas markets in Germany
Düsseldorf, Germany (PRWEB) September 25, 2015
Düsseldorf is an example of a European city where a young, modern heart beats behind a historic façade and the streets teem with international life. During the month leading up to Christmas, the city's cosmopolitan personality is magnified by holiday light and shopping magic and thousands of visitors from all over the world who come to enjoy one of the most beautiful Christmas markets in Germany. The market is one of Düsseldorf's biggest events (November 19 - December 23, 2015).
One reason for the market's huge appeal is the fact that it is right in the center of one of Germany's best shopping destinations, and parts of the market are connected to the city's biggest shopping streets: Düsseldorf's luxury shopping avenue Königsallee (King's Boulevard) and Schadowstrasse.
Another reason is the unique theme market concept. Different Christmas villages all around the city's historic center, the Old Town, greet the visitors with different attractions and looks, including an "Angel's Market," a market that features Christmas huts built as replicas of Düsseldorf's historic town houses, and a "Star Market" with thousands of crystals and sparkling lights. Other highlights are an ice skating rink and the famous square in front of city hall, the "Marktplatz," decorated as a village of artisans featuring glassblowing, candle-making and other holiday-related crafts. Visitors can also enjoy many of the city's major attractions in walking distance, including Düsseldorf's ferris wheel by the Rhine River Promenade.
Visitors can take advantage of special Christmas Market hotel packages available through the city's tourism website and add overnight stays for extended shopping and sightseeing. Specials are offered for stays between November 19 and December 23, 2015, and start at €60 per person per double room and €90 for a single room. All packages include breakfast, a DüsseldorfCard (free public transportation within city limits plus 30 free or reduced admissions to city attractions), and a city information package.
For more information on the Christmas Market, visit http://www.visitduesseldorf.de.
# # #
Düsseldorf Marketing & Tourism GmbH is the visitors and convention bureau of the city of Düsseldorf. Its responsibilities include tourism and city marketing, as well as conference and meeting marketing, hotel reservation services, fairs and convention services, city event ticket sales and advance ticket reservations. For more information, visit http://www.visitduesseldorf.de.
Düsseldorf Airport, Germany's Next Generation HubTM, offers several non-stop flights from US cities (Atlanta, Chicago, Ft. Myers, Los Angeles, Miami, New York, Newark), as well as convenient connections to many European cities. For more information about the airport, visit http://www.dus.com.