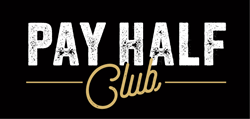 Revolutionizing the restaurant and bar industry.
Austin, Texas (PRWEB) September 25, 2015
After the first week of this initiative, the participation numbers and enthusiasm by restaurant and bar owners exceeded expectations, all the while maintaining the company's strict criteria for the restaurant and bar selection process.
"We are partnering with the best of the best in all restaurant and bar categories in regards to quality, service, consumer reviews and popularity with the locals. We're looking for those great homegrown restaurants with a true local vibe." explained COO, Traci Williams.
Restaurants that are selected to participate in the first phase receive a protected territory for their cuisine consisting of a 3 mile radius or a population density of 10,000 people. Leading research shows that the vast majority of patrons reside within a 3 mile radius. By offering protected territories, Pay Half Club establishments receive a competitive advantage.
Restaurateur, Mark Ferguson, of the famous Ferg's Sports Bar in St. Petersburg, FL, says the reason he joined Pay Half Club is he "saw it was great for the customer and it can provide the restaurant with another source of income".
Popular John Holly's Asian Bistro, located in the affluent and trendy Wash Park area of Denver, CO, also became part of Pay Half Club last week. Owner, Andy Wong, decided to participate because he has "been in the restaurant business for 25 years and has tried dozens of marketing techniques. To me, the unique concept of Pay Half Club and how it benefits customers while dramatically increasing monthly revenue and volume for my restaurant, I knew I was all in!"
Pay Half Club will be showcasing their technology and marketing platform at the Florida Restaurant & Lodging Show on October 6th – 8th of this year. A restaurant can no longer survive by great food alone. At this event, 8,000 restaurateurs will be in attendance and Pay Half Club will unveil the hottest new trend in the food and beverage service industry.
For more information on Pay Half Club and their revolutionary app-based program, go to http://payhalfclub.com.