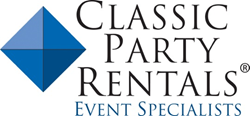 Nashville, TN (PRWEB) September 25, 2015
Classic Party Rentals, the nation's leading event rentals and services provider, took over Bicentennial Capitol Mall State Park for Nashville's premier food festival, Music City Food + Wine. Named one of America's best fall food festivals, it took the Classic Party Rentals' team five days leading up to the event to transform the park into the celebrated event. Using over 100 tents, 500 tables, 1,000 chairs, stages, catering equipment, furniture and more, Classic built a virtual festival city to accommodate star-studded chefs, wine and spirits experts, live music and cooking demonstrations for thousands of attendees.
"The atmosphere at the city's most beloved festival was amplified by the staging our incredible team spent almost a week working to produce," says Craig Ellison, General Manager of Classic Party Rentals Nashville. "The staging really helped set the mood for the event, which turned into a good time for all."
The festival was outfitted with a wide array of tents from 50x50 gable framed tents to 20x40 kitchen prep tents to festival style 10x10 and 10x20 tents for the various events that took place from the Grand Tasting to the Harvest Night live music. Classic Party Rentals top of the line catering equipment along with stages set the scene for the renowned chefs during their demos. Festivalgoers relaxed on Axis sofas and love seats along with the over 1,000 chairs when viewing the spectacular presentations. Guests were also treated to wine and spirits tastings at Classic cocktail tables, highboys and bars.
About Classic Party Rentals
As the nation's leading event rentals and services provider with over 25 locations, Classic Party Rentals is the backbone for more than 150,000 events and celebrations per year. Their network of over 2,000 award winning event professionals is renowned for providing exceptional client services with a fresh and innovative approach to handling the most important events in the country. Boasting over 9 million choices from an unparalleled range of inventory that includes exclusive furniture, china, specialty linens, lighting, heating, flooring, tenting and more, Classic Party Rentals creates events that define the most remarkable moments in time. For more information, please visit http://www.ClassicPartyRentals.com.