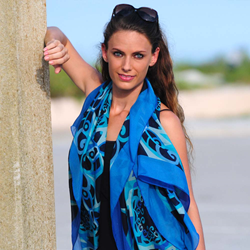 The hidden word "Thanksgiving" will start many conversations so when you wear this scarf be prepared to chat and share.
(PRWEB) September 28, 2015
The Mary DeArment 2016 collection of nine extra large silk chiffon scarves has arrived; every design is made from a word creating a visual puzzle which inspires conversation. Inherently meaningful, they make ideal gifts for the holidays. Words chosen for the new collection include "Dance," "Thanksgiving," "Poetry," and "Humor." Dynamic designs and varied colors insure a scarf for everyone's taste. Palettes include subtle neutrals, brilliant raspberry, cool blues, and several autumn shades, colors inspired by fall foliage.
Fall colors speak to our hearts of new beginnings like school and cozy preparations for colder weather. Warm earthy colors are easy to wear and coordinate with many wardrobe staples. Silk takes color more brilliantly than other fibers, so a quality silk chiffon scarf in the autumn palette produces a vibrant accessory.
This fall discover the versatility and comfort of chiffon. Silk chiffon has proven to be a practical and stylish autumn essential. Extra large chiffon scarves provide enough fabric to add warmth. They can be wrapped around the neck as many as four times producing enough layers to catch and hold warmth. However, they can be opened up to form a light and airy garment as conditions require. Accessory and garment in one, these generous and handy 54 inch squares can be worn as a sarong, blouse, shawl or scarf.
DeArment's passion for the arts inspires her to make beautiful scarves whose feel, drape and movement are as memorable as their appearance. "I am fascinated by language on many levels. Words have both visual and symbolic structures. Each word has a particular look – a profile with an interesting shape. Different fonts can vary a word endlessly and yet, even with tremendous distortion, the text can still be discerned. This is because the brain completes what is incomplete – a phenomenon which opens many doors to the artist."
The artist gives back to her community through collaboration with local nonprofits, designing and donating scarves made with a key word in their mission statements. DeArment combines her love of words and design to help support efforts such as raising awareness of child abuse, meeting the financial needs of families faced with cancer, and improving the lives of those with Parkinson's Disease and their caregivers.