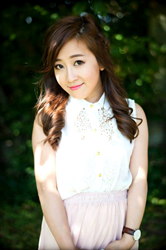 New York, NY (PRWEB) September 25, 2015
YouTube personality Lindy Tsang announced today that she is is building two schools with Pencils of Promise (PoP) as part of their global Back to School fundraising campaign. Tsang, also known as Bubzbeauty, has over six million followers across her social media channels and shares inspirational videos about life, beauty and being a millennial mom.
"Lindy's campaign embodies the spirit of PoP," said Adam Braun, Founder of Pencils of Promise. "By mobilizing her own community to give back, she showed her fans and supporters how joining together for a purpose can create an enormous impact. We're excited to see that impact continue to grow."
"One school will be called H.O.P.E (Hope Of Pursuing Education), the other will be called 'Beauty Of Knowledge' since it was my beauty channel that brought us all together to make this possible," explains Tsang. "I wanted to help and build these schools simply because I always knew I had a reason for my blessed following online. It was almost as if I was called out to it. Now I'm a new mum, it compels me to do all I can because I'm sure the parents of these children want the best for their children."
PoP was founded in 2008 with the goal of increasing quality education for children in the developing world. Since inception, the organization has built over 300 schools and educated more than 30,000 students.
Tsang and PoP expect to open the new schools in Laos in January of 2016.
About Lindy Tsang:
Lindy Tsang, also known to her fans as Bubzbeauty, is a YouTuber, beauty guru, millennial mom and inspirational vlogger. Her online following exceeds more than six million followers, with each one of her unique videos receiving hundreds of thousands of views.
About Pencils of Promise:
Pencils of Promise ("PoP") is a for-purpose organization founded in 2008 with the goal of increasing access to quality education for children in the developing world. PoP works with communities across the globe to build schools and create programs that provide educational opportunities for children, no matter where they are born or what resources they have. To date, PoP has built over 300 schools and provided access to education to more than 30,000 students throughout Laos, Nicaragua, Guatemala and Ghana, establishing itself as a leader amongst the innovative global nonprofits working toward sustainable social change.