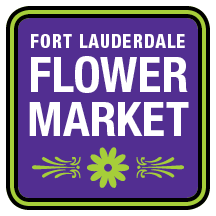 Awaken the Floral Designer within and Bring Creativity to Life.
Fort Lauderdale, FL (PRWEB) September 26, 2015
Ft. Lauderdale Flower Market is for the Do-It-Yourself generation of consumers in Broward, Dade, and Palm Beach counties. This unique flower market receives fresh-cut flowers daily and offers wholesale prices to the public, wedding planners, and florists. Ft. Lauderdale Flower Market brings a new flower concept that changes the way future generations browse, select, order, and purchase floral arrangements, edible bouquets, and bunches of flowers for the home, loved ones, holidays, weddings, and events.
Fort Lauderdale Flower Market is a local resource in all things floral and conveniently located just minutes from I-95 and the Florida Turnpike. The market is open 7 days a week helping customers discover the meaning of flowers and their arrangements. It is dedicated to providing the highest quality and variety of fresh-cut flowers at reasonable prices and commits to working one-on-one with customers to assists them with expressing and sharing their feelings of delight, beauty, hope, joy, gratitude, faith, and love.
The Ft. Lauderdale Flower Market is the preferred source of fresh-cut flowers for brides-to-be. Specializing in DIY wedding flowers and on-site creation of unique wedding bouquets for brides, bridesmaids, ceremonies, and reception centerpieces. We invite our customers to bring in sample swatches of materials and colors to help determine the best flowers for their occasion.
For more information about the Flower Market please call the shop at 954-340-3101, go online to http://www.fortlauderdaleflowermarket.com or check out their social media page at http://www.facebook.com/FortLauderdaleFlowerMarket and of course, stop by in person at 5600 NW 12th Ave #304-C Fort Lauderdale, FL 33309.
The Signature Specials include:
$14.15 Dozen Red Roses wrapped in a presentation-style bouquet with ribbons, with tax $15.00 (cash-n-carry, not for delivery)
$23.58 Growers Pack of 25 Premium Long Stem roses, direct from the farms
$5 Fridays, $5 off any single item Friday's between 3pm-6pm
Custom Floral Arrangements, Florist Designed Baskets & Gifts, Fruit Arrangements, Teddy Bears, Boxes of Chocolate and Truffles and Mylar Balloons and same-day-delivery are available from Water Mill Flowers next to the Fort Lauderdale Flower Market.