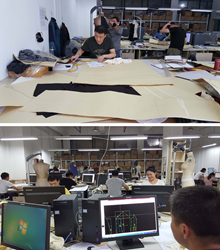 Product development is the oxygen of any apparel business. The objective is very simple: reduce the time it takes to develop products. TUKA3D and Global Collaboration via TUKAcloud brought it down to 6 days from 90 days. - Ram Sareen
Los Angeles, CA (PRWEB) October 06, 2015
Tukatech, Inc., Los Angeles–based provider of award-winning apparel software and hardware solutions, has announced its most recent partnership with Indochine International Ltd., multi-national apparel manufacturer, headquartered in Hangzhou, China with locations within China, Vietnam, Cambodia, Sri Lanka, India, Bangladesh, and many apparel producing countries around the globe.
"Since the company's launch in 2004, Indochine has aimed to be the leader in design, sourcing, and manufacturing, and has certainly continued that trajectory. Annual sales have grown from $15 million to more than $550 million in 2014, and Indochine is now aiming to reach $1 billion in annual sales by 2020. We needed a technology partner who could help us with that goal - that is when we reached out to Tukatech" states Nishit Bapna, Indochine's Managing Director.
Between its product development offices in China and Bangladesh, Indochine International Ltd. has converted all their manual pattern makers to digital operations through the use of TUKAcad pattern making and grading software, SMARTmark automatic marker making software, and TUKA3D virtual prototyping software. In just three weeks the Tukatech team re-engineered and redefined Indochine's product development process through turnkey 2D and 3D technologies.
"Before we installed our TUKA systems, we had Gerber, Lectra, and Astor, as well as two rooms full of paper patterns. It was a hassle to get information on any single pattern," explains Saurabh Khurana, Indochine's General Manager of Technical Services. "Now, with the click of a button, we can see who is working on what in all of our production offices. Our team members use this library to work from the same patterns globally."
"Reduction of the product development time allows us to do a lot more styles for more customers. Tukatech's information systems helped our engineers, fabric buyers, and factories go to one server and view the status of each process," comments Janet Xu, Indochine's Director, based in USA. "Without Tukatech's consulting and engineering help, we couldn't have achieved these results in such a short time."
"Product development is the oxygen room of any apparel business," explains Ram Sareen, Founder and CEO of Tukatech. "The objective here is very simple: reduce the time it takes to develop a product, no one can afford 60% of their cycle time to get a product approved, not in fast fashion. TUKA3D and global collaboration via TUKAcloud brought this cycle time down from 90 days to 6 days."
With Tukatech's technology and information systems in place, Indochine is poised to hit its billion-dollar mark.
About Indochine International Ltd.: Indochine International Ltd. Operates a vertical supply chain for the sourcing, manufacturing and design of clothing and apparel. The company is headquartered in Hangzhou, China designs and provides fashion apparel to key retailers and international brands like GUESS, New Look, Target, C&A, Inditex, Mango, Topshop, Oakley, and many more. Their partner retailer Forever New is one of the fastest growing fashion and accessories brands in Australia with hundreds retail stores in Australia, China, India, Canada and many other countries.
About Tukatech, Inc.: Tukatech, ranked #1 by the Apparel Scorecard globally since 2007, provides affordable fashion design and apparel product development solutions to the apparel and sewn goods industry and offers a total solution for guaranteed results: consulting, engineering, implementation, and unlimited training. Tukatech is the first CAD/CAM company to bring digital pattern making to leading apparel manufacturing countries such as India, Sri Lanka, Bangladesh and many others. Tukatech is the first CAD company to eliminate the use of digitizers, and reduce or eliminate grading and marker making by automating the process. Tukatech was the first leading company to offer apparel product development outsourcing (APDO) as a service to the industry through TUKAweb in 2001. Over 500 Brands, Retailers and their vendors use TUKA3D to reduce the time it takes to develop new products.