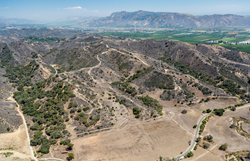 This versatile property offers nearly 1,800 acres of classic ranch living within close proximity to Los Angeles and Santa Barbara.
Santa Paula, Calif. (PRWEB) September 25, 2015
Interested buyers will have the chance to name their price on a magnificent ranch estate comprised of nearly 1,800 acres of rolling hills and rangeland prairies amidst the fertile orchards and panorama vista views of the Santa Clara Valley. Previously listed for $9.8 million, the sellers of the property chose the auction process to attract a more global audience to the desirable Southern California property. The Hampton Canyon Ranch, which can be subdivided into 160-acre parcels, will be sold at a live absolute auction on Tuesday, October 20th, at 2:00 p.m. PDT by Grand Estates Auction Company with no minimum bid and no reserve.
Founded in 1872 and known as the Citrus Capital of the World, Santa Paula offers a private retreat just 15 minutes from the fine dining and boutique shopping of historic downtown Ventura. Nearby Ventura Harbor offers the juxtaposition to ranch life with harbor cruises, scuba diving, sport fishing excursions, and whale watching amid miles of pristine beach with incredible year-round breaks. Santa Paula is centrally located between Los Angeles and Santa Barbara, making it an easy getaway from busy city life.
"This versatile property offers nearly 1,800 acres of classic ranch living within close proximity to Los Angeles and Santa Barbara," stated Grand Estates Auction Company CEO Val DeVine. "Whether the buyer decides to subdivide the property into 160-acre parcels or keep it all for themselves, someone will walk away with one of the best properties in the region on October 20th. Interested buyers should come ready to bid on this amazing investment opportunity."
The Hampton County Ranch, which can be subdivided into 160-acre parcels, enjoys a Mediterranean micro-climate and abundant flat acreage, making it ideally suited for growing a variety of crops, including avocados and citrus. Surrounded by native oak, ash, and sycamore trees, this privately gated estate includes four guest houses, five irrigated paddocks, a riding arena, a 12-stall horse barn with tack room, and picturesque riding and hiking trails.
Grand Estates Auction Company has an unsurpassed closing rate in the luxury residential real estate auction industry and specializes in creating comprehensive global marketing campaigns for luxury properties. There are no contingencies, no lengthy negotiations, and timelines for closing are already established. To help buyers make an informed purchase, comprehensive due-diligence packets are available on each of the properties, and ample time is allotted for tours and inspections prior to the auctions. Similar to rare artwork that does not have comparable pieces to set the value, exceptional properties such as these are well suited for auction, where bidders set the market value.
The property will be available for prospective bidders to preview beginning Friday, October 16th at 11:00 a.m., with daily preview times scheduled through the date of the auctions. Buyers may contact Grand Estates Auction Company's auction information office to schedule an appointment during one of the preview times at 800-552-8120. A $150,000.00 certified check, wire, or personal check along with a bank letter of guarantee will be required to register to bid. Real estate agents and brokers are fully protected and encouraged to participate. Provisions for remote bidding can be arranged.
Grand Estates Auction Company is the leader in the niche market of auctioning luxury real estate, specializing in properties valued at $2 million and above throughout North America, the Caribbean, and select international destinations. Based in Charlotte, N.C., Grand Estates Auction Company is the first auction company of its kind to specialize in luxury real estate auctions, having auctioned more than 1 billion dollars worth of real estate in its 16 year history. Grand Estates Auction Company invented the platform and process that provides the highest success rate in the industry. Recent auctions include the record-breaking sale of an $11 million home in Bay Harbor, Mich., and the sale of a $5.885 million home in Lake Geneva, Wis. For more information and auction details visit http://www.GrandEstatesAuction.com.