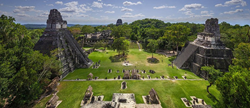 this partnership between Chaa Creek and the Bolontiku Boutique Hotel makes exploring the Mundo Maya easier and more enjoyable and affordable than ever before
San Ignacio, Belize (PRWEB) September 27, 2015
The Lodge at Chaa Creek has announced a new all-inclusive Belize vacation package that takes travellers on tours to some of the most impressive ancient Maya temples and city-states in Belize and Guatemala.
According to Chaa Creek co-owner and GM Lucy Fleming, the weeklong Maya Temples and Jungle Adventure vacation package is offered in collaboration with Guatemala's Bolontiku Boutique Hotel and represents a new direction in Maya cultural holidays.
"We're very excited about this new package, as it gives guests an opportunity to explore ancient Maya sites in two different countries in one seamless, all-inclusive vacation," she said.
"Belize and Guatemala were both part of the 'Mundo Maya', or Maya World, and we felt it only fitting to craft an all-inclusive vacation package that transcended today's borders, offering our guests ease of travel and the chance to take in gorgeous scenery while visiting some of the region's most spectacular archaeological sites.
"Accommodation, all meals, tours, activities and other features offered by both eco-resorts are included under one set price, allowing guests to relax and not worry about exchange rates, itemising each and every detail and facing credit card surprises when they get back home. I can't think of an easier or more affordable way to experience the best ancient Maya sites and natural attractions of both countries," Ms Fleming said.
Guests have the choice of a three or four night stay at either resort during the weeklong holiday, she added.
Ms Fleming said that in addition to eco-luxe lodging, meals and activities, Chaa Creek's portion of the Maya Temples and Jungle Adventure package includes transfers from Belize's international airport with a visit to the Belize Zoo, use of Chaa Creek amenities including an infinity pool, tropical gardens and rainforest trails, excursions to ancient Maya ceremonial caves, guided tours of Chaa Creek's Natural History Centre, butterfly farm and the Maya Rainforest Medicinal Plant Trail, canoe trips down the Macal River, and transfer to the nearby Guatemalan border.
In Guatemala, the Bolontiku portion of the package includes transfer from the Guatemala border, choice of three or four nights hotel accommodation with all meals included, a full-day guided tour through Tikal National Park with additional full day tours through Guatemalan national parks with zip-lining, horseback riding and other activities included, as well as excursions to Lake Petén Itza and the city of Flores, with transfers to Mundo Maya Airport, Santa Elena Flores, for return flights to Belize International Airport.
"The Maya Temples and Jungle Adventure is a rare opportunity to explore the most fascinating cities and archaeological sites of the ancient Maya world with experienced guides during an all-inclusive vacation that is both relaxing and exciting.
"With our cross-border cooperation, combined infrastructure and intimate knowledge of the region, and sharing an emphasis on green, casual luxury, this partnership between Chaa Creek and the Bolontiku Boutique Hotel makes exploring the Mundo Maya easier and more enjoyable and affordable than ever before," Ms Fleming said.
Further details and bookings can be on the Chaa Creek website or by contacting Chaa Creek or travel agents, she added.
The Lodge at Chaa Creek is a multi award winning eco resort set within a 365-acre private nature reserve along the banks of the Macal River in Belize.