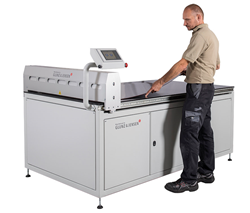 The FlexPose UV-LED proofs that Glunz & Jensen is capable of and committed to translate this promising technology into real products and real value for their customers.
Denmark (PRWEB UK) 27 September 2015
With the ever increasing demands for standardised high quality of flexo plates, optimised platemaking conditions are more important than ever. In the heart of the platemaking process, the light source is the foundation for consistent high plate quality.
At Label Expo, Glunz & Jensen introduces FlexPose UV-LED, a high intensity UV-LED exposure technology that enables precise exposure of the flexo printing plate. Further to high reproducibility, the FlexPose is ideal for flat top dot and HD screening applications, offering reduced exposure times, a long light source lifetime and substantial energy savings.
Joachim Spies, Product Manager at Glunz & Jensen:
"Given its outstanding benefits with regards to energy efficiency, accuracy and consistency, LED-based UV exposure will soon be the pre-dominant technology for flexo plate exposure."
"The FlexPose UV-LED proofs that Glunz & Jensen is capable of and committed to translate this promising technology into real products and real value for our customers."
Meet GLUNZ & JENSEN AT LABEL EXPO 2015 - Stand no. 7E41