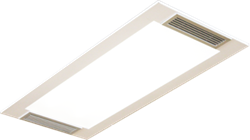 "There are so many applications that make sense, hospitals, universities, schools, doctors' offices and commercial buildings."
South Bend, Indiana (PRWEB) September 28, 2015
According to the Centers for Disease Control and Prevention (CDC) 722,000 people in the United States will develop a healthcare-associated infection (HAI) during a stay in the hospital and approximately 75,000 die annually because of them. The Health Risk Management System or HRMS utilizes UV-C technology as a creative solution to eliminate pathogens in both the air and on surfaces. Reduce the number of pathogens, reduce the risk of infection.
National Energy Solutions, Inc. (NESI) is an energy solutions company that provides design, sales and installation of various energy saving products for commercial and industrial buildings and grounds throughout the state of Virginia. This veteran-owned business is NCQLP certified. The addition of the HRMS to NESI's extensive line of products and services was an easy decision for VP of National Accounts, Ray Sizer.
"With our existing platform of energy efficient LED lighting and electric vehicle charging stations, NESI is able to save energy; with the HRMS we are now able to save lives," said Ray Sizer. "The design fits perfectly into our product line and solutions. We plan to market this to hospitals, universities, schools, doctors' offices, commercial buildings; there are so many applications that make sense. We are excited to get this out to the Virginia market."
"National Energy Solutions has a great reputation in the Virginia market," said Danny Bogar, CEO for AGT. "Their background and expertise provides a broad scope of potential customers for the HRMS to make it visible to a wider audience."
The HRMS is designed as a light fixture, with the UV-C completely shielded in the ceiling grid so that the system can operate 24/7 in occupied areas like patient rooms, waiting rooms, office workspaces and classrooms. To watch a brief video on how the system works, log on here.
About National Energy Solutions:
National Energy Solutions' goal is simple: to maximize energy efficiency and eliminate energy waste in the commercial and industrial environment, resulting in reduced demand for electricity, benefiting both our customers and the environment. We accomplish this while providing valuable cost effective results with intelligent energy efficiency strategies that include recommending and implementing solutions that employ only superior products and the best technology available. http://www.nesicure.com
About American Green Technology:
American Green Technology® (AGT) manufactures safe lighting products for the heavy industry and healthcare sectors. Our world class board of directors, shareholders and management leverage global relationships to produce proprietary best in class solutions. By replacing less than optimal alternatives, AGT offers our customers fast paybacks and high returns on investment while creating safer environments for their workers and patients. http://www.agthrms.com