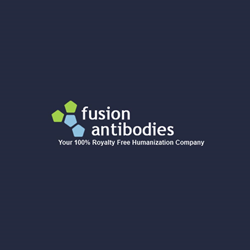 Belfast, Country Antrim (PRWEB UK) 28 September 2015
Fusion's Fsn1006h antibody has been awarded European Patent No EP2281001 (IP Title: Anti-AREG/HB-EGF Antibodies and Treatment). The patent relates to the sequence of the CDRs of the antibody used in the generation of 1006h. The patent protects the specific antibody binding sequences used in both the murine and humanized forms of the antibody.
Concurrently, Fusion Antibodies have started development of a stable cell line expressing Fsn1006h. Fusion Antibodies will take advantage of their high yield cell line development technologies to produce the new cell line. The development of the cell line will progress the therapeutic mAb project towards clinical trials and increase its value as a licensable asset.
Fsn1006h is a humanized dual specific IgG1 monoclonal antibody which binds AREG and HB-EGF. The Epidermal Growth Factor receptor (EGF-R) pathway has been proven to be critical in the progression of several types of cancer including colon, breast and lung cancer. Fsn1006h is a second generation dual-targeting monoclonal antibody which inhibits the activity of amphiregulin (AREG) and heparin-binding EGF (HB-EGF).
Fsn1006h has the additional benefit of also blocking HB-EGF activation of ErbB4, a sister receptor, frequently involved in activation of EGF through heterodimerisation. The cell line will be developed over the next 12 months using Fusion Antibodies cell line development platform. Fusion Antibodies is currently seeking to out-license the Fsn1006h antibody and development of a high yield cell line will provide additional value to potential licensees.
About Fusion Antibodies
Fusion Antibodies is a CRO that offers services covering all stages of preclinical therapeutic and diagnostic Antibody development from target discovery to delivery of lead optimized Humanized commercial drug candidates ready for clinical investigation.
Fusion Antibodies next generation CDRx humanization antibody technology platform assist companies interested in developing high quality antibody leads against the next generation of therapeutic targets from murine and lapine antibodies.
More information about Fusion Antibodies can be found here: https://fusionantibodies.com/
Fusion Antibodies services: https://fusionantibodies.com/services/
Contact page: https://fusionantibodies.com/contact-us/