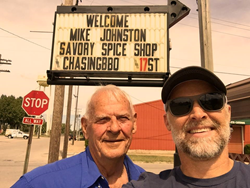 Denver, CO (PRWEB) September 25, 2015
Savory Spice Shop, the leader in fresh-ground spices and handcrafted seasonings, sent their Founder and CEO Mike Johnston on a national road trip around the United States 'chasing' the best BBQ in the country.
"Chasing BBQ finally comes to end this week as I finish out my final two days of Chasing BBQ in Kansas City," said Mike Johnston, Savory Spice Shop founder. "It has been an amazing journey, I've met so many remarkable people and ate some delicious 'cue. Hard to believe after 14 states, seven regions of BBQ and 82 BBQ joints that the end is finally within sight "
On his first day in Kansas City Mike visited Slap's BBQ, Joe's Kansas City Bar-B-Que, and LC's BBQ. Mike also made a quick stop at American Royal Association's Barbecue Hall of Fame on day one in preparation for his meeting with their 2015 Hall of Fame inductee and Kansas City's own "Baron of Barbecue" Paul Kirk.
Paul Kirk, a world-renowned pitmaster, will join Mike on his final day as they stop at Q39, Danny Edward's Boulevard BBQ and Jack Stack Barbecue. Unless Mike decides to make a "bonus stop," Q39 will mark his 88th and final stop on his 38-day chase for the best BBQ in the nation.
Follow Mike's final stretch of Chasing BBQ on the Savory Spice Shop Facebook page as he closes out the chase in Kansas City, Anybody who finds the Chasing BBQ truck or camper along the journey and posts a photo to Savory Spice Shop's Facebook page will get a $10 Savory Spice gift certificate. If you find Mike himself and say hello, Savory Spice Shop will double your gift certificate amount.
Savory Spice Shop is a spice shop for every type of cook. From the griller to the gourmet chef, visitors will be offered a variety of options for creating an array of flavorful dishes. Savory takes great pride in offering high quality and hard-to-find items at prices that average lower than most grocery stores.
Founded in 2004, Savory Spice Shop is a collection of locally owned and operated community spice shops located across the country. Offering over 500 freshly ground herbs and spices, and over 175 handcrafted seasonings, Savory Spice Shop is a "Cook's Paradise", catering to both experienced and aspiring cooks alike. The shops are over-flowing with rich, wonderful aromas of exotic spices from around the world as they are ground and blended weekly to ensure superior quality and freshness.
With the help of friendly, knowledgeable spice merchants, customers are encouraged to sample the vast selection of common and exotic spices and can purchase in quantities starting at as little as a half ounce. Savory Spice is known as a "Cook's Paradise", catering to experienced and aspiring cooks alike and has developed a loyal following across the country with locations in sixteen states.
For more information regarding Savory Spice Shop and Mike Johnston's Chasing BBQ adventure, please contact Chris Billings at 303-297-1833