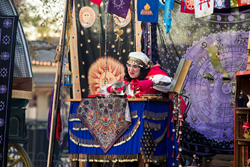 Dearborn, Mich. (PRWEB) September 28, 2015
Experience new costumed characters, fire-breathing performers, death-defying sideshow stunts, and one of the largest collections of hand-carved pumpkins around during Hallowe'en in Greenfield Village, Oct. 9-11, 15-18 and 22-25.
New this year, Greenfield Village welcomes Top Hat Sideshow, a carnival vaudeville act that brings to this event the spirit and thrills of the traveling sideshows and carnivals of the early part of the 1900s. Taking the stage next to Wright Home, this traveling carnival vaudeville experience will include sword swallowing, fire breathing, life threatening escapes, mind reading, death-defying sideshow stunts, as well as mind-bending illusions with a comedic flair.
Along the path lit by more than 1,000 hand-carved jack-o-lanterns, guests will meet new costumed characters including the Wolfman, Queen of Hearts, the Bride of Frankenstein and possibly a ghost or two near Webster Home. Guests will also be treated to more swashbuckling action, live singing and dancing from Hallowe'en favorites the Pirates of the Suwanee. Near the evening's end, the Headless Horseman will ride again through a transformed Sleepy Hollow.
Tickets are $13.75 for members and $16 for non-members, children under two are free. Time slots are every half hour from 6:30 p.m. - 9 p.m. Fridays and Saturdays and 6:30 p.m. – 8 p.m. on Thursdays and Sundays. Purchase tickets online at http://www.thehenryford.org or call 313-982-6001. A coupon for $2 off admission is available online. Hallowe'en in Greenfield Village is supported by the Ford Motor Company Fund and Michigan Education Savings Program. For more information, visit http://www.thehenryford.org/events/halloweenEvent.aspx.
About The Henry Ford
The Henry Ford in Dearborn, Michigan is an internationally-recognized cultural destination that brings the past forward by immersing visitors in the stories of ingenuity, resourcefulness and innovation that helped shape America. A national historic landmark with an unparalleled collection of artifacts from 300 years of American history, The Henry Ford is a force for sparking curiosity and inspiring tomorrow's innovators. More than 1.6 million visitors annually experience its five attractions: Henry Ford Museum, Greenfield Village, The Ford Rouge Factory Tour, The Benson Ford Research Center and The Henry Ford IMAX Theatre. A continually expanding array of content available online provides anytime, anywhere access. The Henry Ford is also home to Henry Ford Academy, a public charter high school which educates 485 students a year on the institution's campus. In 2014, The Henry Ford premiered its first-ever national television series, The Henry Ford's Innovation Nation, showcasing present-day change-makers and The Henry Ford's artifacts and unique visitor experiences. Hosted by news correspondent and humorist, Mo Rocca, this Emmy®-winning weekly half-hour show airs Saturday mornings on CBS. For more information please visit our website thehenryford.org.
###