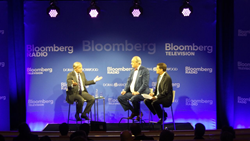 Rye Brook , NY (PRWEB) September 25, 2015
Doral Arrowwood Hotel & Conference Center, the premier meeting destination in the New York metropolitan area and one of Benchmark Resorts & Hotels' distinctive properties, hosted a live broadcast of Bloomberg Radio and Television's Prime Time Surveillance on Wednesday, Sept. 16 at 6 p.m.
The event, held in the new Executive Center at Doral Arrowwood and attended by an exclusive audience of 220 Bloomberg insiders and special guests, was shown live on Bloomberg Television, and aired live on Bloomberg Radio. Bloomberg TV is available in 360MM+ households around the world.
The Bloomberg Radio broadcast aired on multiple platforms, including all of Bloomberg Radio's audio feeds, locally in New York, Boston and San Francisco as well as nationally on SiriusXM 119, BloombergBusiness.com and the Bloomberg Professional service.
"We are delighted to bring the energy of Bloomberg Television and Bloomberg Radio to the new Executive Center at Doral Arrowwood," said Steve Mabus, General Manager of Doral Arrowwood. "Our resort is an inspired choice for exceptional meetings and Bloomberg's world-class editorial programming perfectly complements Doral Arrowwood's mission to provide its guests unforgettable events with world-class service."
Marc Siegel, Director of North American Sales, Bloomberg Radio said, "Doral Arrowwood is a great supporter and partner of Bloomberg Radio. From this relationship evolved the idea that once a year we would do a "prime time radio broadcast" with high profile guest interviews live from Doral Arrowwood in front of our listeners and customers. Given that Doral is a first class facility that caters to business executives, the fit has been a natural one. We felt fortunate to have Ray Dalio join us for an hour long conversation this time and were thrilled to simulcast the event to our global audience on Bloomberg Television as well."
Prime Time Surveillance anchors, Tom Keene and Michael McKee, were joined by Billionaire Investor Ray Dalio, founder of the world's biggest hedge-fund firm Bridgewater Associates.
Keene and McKee covered a broad range of topics with Dalio, including his concerns about the next economic downturn. The show was followed by a lively cocktail reception in Arrowwood's beautiful Lobby Lounge. The group enjoyed seasonal cocktails and samplings of Chef Michael's lavish fall specialties including Porcini Dusted Diver Scallops & Butternut Squash Blinis amidst the stunning views of Arrowwood's 114 surrounding acres and golf course.
The broadcast can be accessed by visiting http://www.bloomberg.com/shows/bloomberg-surveillance. For more information about Doral Arrowwood, please visit http://www.doralarrowwood.com.
About Doral Arrowwood:
Doral Arrowwood, located just 30 miles north of Manhattan and five minutes from the Westchester County Airport, provides both business executives and leisure travelers alike the ultimate in exclusivity at an unsurpassed location. The property is nestled on 114 wooded acres, surrounded by a magnificent Robert von Hagge golf course. Guests can enjoy a wide range of activities including golf, tennis and racket sports. The resort offers 369 guest rooms (including seven suites), three distinct restaurants, a spectacular indoor-outdoor pool and state-of-the-art sports center with spa services such as massages and facials. The conference center boasts 33 custom-built meeting rooms and an elegant 6,500 square foot grand ballroom for corporate and special events. The new Executive Center at Doral Arrowwood includes an additional 30,000 square feet of meeting space and private dining space with sweeping views of the golf course. To learn more, visit http://www.DoralArrowwood.com.