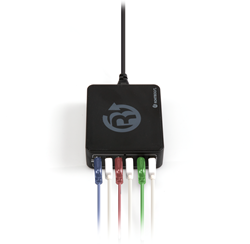 New York, NY (PRWEB) September 29, 2015
While the advent of technology has made cellphones, music players and other devices come a long way, the same cannot be said for the accessories of these devices. Often substandard in quality, the accessories that come along with majority of devices are a pain to operate and leave a lot to be desired.
This holds true particularly for cell phones as the chargers that come along with them require specific ports and voltage limits. Moreover, majority of chargers fail to meet expectations and require a lot of time to charge cell phones. In view of all of these issues, consumers have no choice but to look towards after-market, third party accessories.
Thus, in a bit to create the complete solution for cell phones and tablets, Rokit Boost has released the ultimate USB charging station that comes with 6 ports. The USB charging station dubbed Omni-Charge is now available online.
Omni-Charge- Charging Multiple Devices Simultaneously In Double Quick Time
In line with Rokit Boost's efforts to provide top notch accessories, Omni-Charge is a multiple port USB charger that is set to change the way mobile devices are charged. Made from high quality materials that make the product temperature proof, Omni-Charge is designed to offer convenience with practicality in mind.
Small in size, the Omni-Charge is a USB charging device that is more than useful and aims to eliminate woes that are usually associated with charging multiple devices at the same time. According to the manufacturer of the product, "the Omni-Charge is the ultimate charging solution for all devises". He adds, "the Omni-Charge:
Centralizes charging in one place so users don't have to run around looking for chargers;
Comes with 6 ports so that individuals can plug their phone or tablet in any one of them.
The multi-port USB charger can then output the exact voltage needed by the device. There are no designated ports for phones or tablets;
Charges the iPad mini from 0 to 100 in under 2.5 hours: an hour faster than its own original charger.
Supports over-voltage, over-current, short-circuit protection;
Comes with a 1 year warranty"
About Rokit Boost
Rokit Boost is a pioneer of affordable, high-quality mobile accessories. Whether they are innovations including iPhone charger cases, Bluetooth headphones, or wireless Bluetooth speakers/microphones, Rokit Boost's team seeks to add substantial enhancements to great existing products. The company also offers a refurbishment program of certified products for exceptional customer value, at reduced pricing. For More information about Rokit Boost can be found on its official business website.
Information on the all new Omni-Charge can be found on http://www.rokitboost.com/omni-charge and http://amztk.com/omni-charge