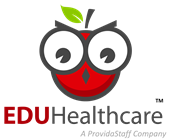 Continuing one's education in his or her specialty is crucial for delivering the best services to our clients and now our staff has access to great educational courses online to broaden their skillsets
Huntersville,NC (PRWEB) September 29, 2015
EDU Healthcare, a leading provider of special education and healthcare services to school districts in the United States, has partnered with Allied Health Media to deliver online education for its healthcare staff through an educational portal called EDUniversity. "Our mission is to deliver the highest quality of services to our clients", said Angela Lewis, President of EDU Healthcare. "Continuing one's education in his or her specialty is crucial for delivering the best services to our clients and now our staff has access to great educational courses online to broaden their skillsets", she said.
EDU Healthcare has partnered with Allied Health Media (AHM) who operates OccupationalTherapy.com, SpeechPathology.com, PhysicalTherapy.com, and AudiologyOnline.com to deliver educational courses online to these specialties. For employees that do not specialize in these areas, the company has provided alternative reimbursement plans for continuing education for those that qualify.
EDUniversity offers are a variety of course formats including live webinars, audio courses, video courses, and texted based courses. These are meant to fit the individual learning style for each professional. The course library contains tens of thousands of courses through AHM, which has become a leader in education for the specialties.
AHM's goal is to enhance the quality of life for patients and clients in the care of the professionals they serve. The organization was established in 1997 as a way to help supplement allied healthcare professionals' ability to connect with other clinicians to share knowledge and best practices beyond local networks. AHM launched a virtual community with the goal of using advanced communication technology to improve health outcomes for patients. The company began to partner with leading industry participants to share information on new products and software to professionals. From there, AHM expanded into the continuing education platform it is today.
"EDUniversity is a great way to earn and maintain CEUs throughout the year as well", said Matthew Lewis, Vice President of EDU Healthcare. "Each online course offers CEUs to our providers which a huge benefit for maintaining their license", he said.
The American Speech Language Hearing Association requires all certificate holders (CCC-A and CCC-SLP) to meet at least 30 Certification Maintenance Hours (CMHs) of professional development during each 3 year certification maintenance interval in order to maintain their ASHA Certificates of Clinical Competence (CCC). Some example courses that are offered are ethics, audiology/hearing impaired, stuttering, prevention of medical errors, educational audiology, and many more. These courses can be found on SpeechPathology.com and AudiologyOnline.com.
Occupational Therapists and Occupational Therapy Assistants can meet their continuing competence requirements set by the American Occupational Therapy Association with classes such as developmental disabilities, school based early intervention, assistive technology, sensory processing, and many more. Each state has different requirements that need to be met in order to keep their license current. These courses can be found at OccupationalTherapy.com.
Physical Therapists and Physical Therapy Assistants have the option to take courses such as acute care, geriatrics, pediatrics, women's health, pharmacology and more. These courses can be found at PhysicalTherapy.com.
These learning initiatives offered through EDUniversity, in partnership with AHM, create a more talented set of healthcare providers that not only increase the quality of care they provide, but also help the providers further their careers.