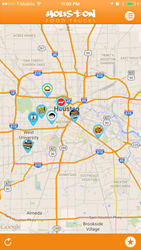 With all of the incredible growth going on in Houston's street food scene, we knew that people would love having an app like this on their phones.
Houston, TX (PRWEB) September 28, 2015
Apptitude, the premier app development studio in the Gulf South region, is pleased to announce the launch of its Houston Food Trucks app. The first food trucks app ever developed exclusively for the Houston area, the app provides iOS and Android users with a realtime map that shows the current locations of food trucks around the city.
Prior to this historic launch, foodies searching for street food in Houston had to resort to social media or coincidence to find the location of a specific truck. Having already solved that dilemma in New Orleans with the iTunes Top 100-ranked New Orleans Food Trucks app, Houston Food Trucks was designed to showcase the most sought-after street food options in the United States' fastest growing city. Apptitude felt that Houston's proud history of food truck businesses combined with the latest innovations in mobile technology make a perfect match.
Brought to you by the creator of Rice University's official smartphone app, the Houston Food Trucks app uses the power of GPS and mobile technology to display where food trucks are currently located throughout Houston. When trucks are open for business, users will see a map that displays the trucks in their precise locations, with comprehensive information about each truck available with one tap.
"We're thrilled to take the creativity we used in New Orleans with their food trucks app and bring it to Houston. With all of the incredible growth and innovation going on in the street food, restaurant, and bar scenes in Houston, we knew that people would love having this app on their phones," says Chris Boyd, Apptitude's Founder.
Ten food trucks will be featured at launch, with more to come later. Every month a new set of food trucks will be selected to be showcased in the apps and website. Food trucks that would like to be featured inside the app should contact Apptitude.
To download the app for iOS or Android, visit houfoodtrucks.com or search "houston food trucks" in the Apple App Store or Google Play Store.