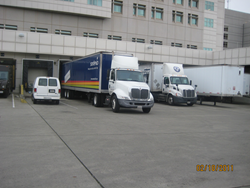 Loading docks that aren't properly secured from outside threats, such as thieves or intruders, put your people and entire facility at risk.
NEW YORK (PRWEB) November 06, 2017
Building Intelligence, the global leader in vehicle, visitor and vendor security, announced today that it has enhanced its Loading Dock Solution to include a Trusted Vendor Program for regularly scheduled vendors. Combined with SV3® Mobile for mobile security and dock management, the Trusted Vendor Program allows facility operators to develop efficient loading dock operations.
"Loading docks are an open invitation to a variety of risks. SV3® has empowered security officers and loading dock managers with information to make decisions," says CEO Jeffrey Friedman. "To alleviate operational stress, vendors who have earned the trust of the facility operator enjoy a more efficient process."
A mobile device capable of managing both the security gate and bay check-in and check-out help security officers to support operations and logistics. Working a secure loading dock and supporting protocols for vehicle inspections, SV3® combines operational responsibilities into one easy-to-use native application for either Android or IOS platform.
Measuring, reporting and analyzing productivity, the security staff is motivated with SV3® to communicate and drive important information regarding facility usage and resource allocation. Loading docks that aren't properly secured from outside threats, such as thieves or intruders, put your inventory and entire facility at risk.
Build a network of frequently used vendors with the SV3® Trusted Vendor Program from Building Intelligence Inc. Easily schedule a single occurrence, a round-trip, or a recurring delivery. Access downloadable reporting for all building activity. Maintain a complete daily manifest of expected vendors and access a complete history of all their deliveries. Export reports based off of specific date ranges, vendors, or tenants. SV3® supports bay management in loading docks and allows resource allocation. Schedule and manage inbound and outbound vehicles and deliveries with one simple to use platform. Produce historical data and analysis on vehicle traffic. Generate watch lists and incident reports based on deliveries.
About Building Intelligence, Inc.:
Building Intelligence is a software company providing innovative technology solutions for security practitioners and building owners to manage visitors, vehicles and vendors. Building Intelligence Inc. is a privately owned business based in New York, NY. SV3® is a modular solution set is being widely adopted in many major metropolitan markets and being sold, deployed and supported by an authorized security systems integrator channel with expertise in the identity and access management domain. The SV3® is Safety Act Designated and covered by several issued patents.