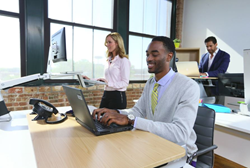 "The workplace has forced desk-workers to operate in unhealthy conditions that immobilize us."
Orlando, Florida (PRWEB) September 28, 2015
InMovement, a global company born into Brunswick Corporation's fitness and active lifestyle division, took center stage at the Employer Healthcare and Benefits Congress in Orlando today, where it formally announced itself as a new business dedicated to bringing movement back to the workplace. In conjunction with the announcement, InMovement exhibited a showroom of new products designed to unite healthy behavior with daily job function, what the company refers to as Productive Wellbeing™.
Gary Hirschel, vice president leading InMovement, gave a keynote address during the conference where he highlighted the need for movement in the workplace.
"The workplace has forced desk-workers to operate in unhealthy conditions that immobilize us," said Hirschel. "You shouldn't have to choose between earning a living and living healthy—you can do both. We've created products and services that re-engineer the workplace to support light movement throughout the day, which combats the harm of all-day sitting."
InMovement's core suite of products includes the Elevate DeskTop™ Series of adjustable height work surfaces, the InMovement™ TreadMill Desk, and the Integrate™ line of workplace accessories such as anti-fatigue mats and weighted hand balls. At the congress, InMovement unveiled its next generation of workplace furnishings uniquely designed with movement and job function in mind.
"Prolonged sitting has been connected to a range of health problems, from heart disease and diabetes to physical pain and even depression. The compounding effects of working in a sedentary environment cannot be undone through short burst of daily exercise, and ultimately end up costing our businesses in healthcare expenses and through loss of productivity."
InMovement has been supporting customer engagements over the past year, with Fortune 100 companies, law firms, small private businesses and wellness companies looking for new ways to blend well-being into the workplace. Through its trials, InMovement has collected user feedback on its Productive Wellbeing approach that showed significant increases in energy and productivity, with reductions in stress, pain, discomfort and absenteeism. Employees also reported increased job satisfaction and an influence on other healthy behaviors as a result of working differently.
To complement its line of innovative products, InMovement provides customers with a comprehensive education curriculum that helps employees understand the dangers of a sedentary lifestyle and the importance of working differently. The company also coordinates the necessary product implementation and employee training, working with business leadership to support culture change initiatives that reinforce total workplace adoption.
For more information about InMovement, or to watch the company's keynote address, visit http://www.InMovement.com/Launch.
About InMovement
InMovement® is a Productive Wellbeing™ company that aims to return movement to the workday, prioritizing human health in order to drive a stronger business for its customers. A division of Brunswick Corporation that was born out of Life Fitness, InMovement brings new proprietary research to workplace planning and employee health behavior. InMovement works with companies to re-engineer their space and culture to address the sedentary nature of the workplace. At the heart of the InMovement solution are worktools designed to incorporate subtle movement into an employee's work habits, like the InMovement™ TreadMill Desk and Elevate DeskTop™ Series of sit-to-stand desks. By blending healthy behavior with daily job function, InMovement removes barriers to workday movement to create a happier, healthier and more productive business. For more information, visit http://www.InMovement.com.