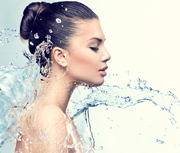 'Creating a better online experience is an essential part of Kaiderma Skin Care's commitment to our customers and to communicate information about new developments in skin health.' - Brad Zaro, President and CEO
San Jose, CA (PRWEB) September 28, 2015
Kaiderma offers a line of natural therapeutic skin care products based on unique marine and botanical functional ingredients. Since their introduction, Kaiderma products have enjoyed an enthusiastic reception among skin care professionals. The improved website (http://www.kaiderma.com) features product videos with Heather Howell, former Fox Sports commentator. The site employs state of the art web technology and offers users ready access to comprehensive information about Kaiderma products including videos, background information and ingredients. From the new platform, it is easy to search for products, make purchases or request additional information. Along with the new site, Kaiderma Skin Care has expanded its presence on social media to further disseminate information regarding the many benefits of Kaiderma products.
"Creating a better online experience is an essential part of Kaiderma Skin Care's commitment to our customers and to communicate information about new developments in skin health," explains Brad Zaro, President and CEO of Mariner Biomedical, the company behind Kaiderma products. "I encourage everyone to visit our new Kaiderma.com site. It is functionally advanced and graphically compelling while being very user friendly. It is designed to help our customers understand the many important benefits Kaiderma products have to offer."
About Kaiderma Skin Care™
Kaiderma Skin Care™ products are formulated to combat the damaging and aging effects of free radicals while supporting the skin barrier function. Formulations contain powerful antioxidants, anti-inflammatory agents, essential vitamins, lipids and minerals to support healthy, vibrant skin. All products are formulated with the highest quality, natural marine and botanical ingredients. The oceans are proving to be a rich source of new compounds offering numerous skin benefits. A team of marine scientists and chemists working in Kaiderma's laboratory are committed to developing products which include the latest advances in marine science to promote skin health and beauty. The product line, launched in 2014, includes Anti-Aging Facial Serum, Sea Serum, Exfoliating Facial Scrub, Facial Oil Wash, Facial Toner, Facial Cleansing Mask, Body Oils, Exfoliating Body Scrubs, Massage Gels, Lip Therapy, Bath Salts and a full range of ocean-inspired bath soaps. All Kaiderma products have been scientifically developed to provide proven therapeutic and anti-aging skin benefits, along with outstanding skin feel and scents reminiscent of a tropical island.
About Mariner Biomedical®
Kaiderma Skin Care™ are products of Mariner Biomedical, Inc. Mariner Biomedical is a bio-sciences company dedicated to producing topical skin care therapies based on scientifically validated marine natural products which are safe, effective and environmentally friendly. Mariner Biomedical's laboratories and offices are located in San Jose, California. Mariner Biomedical has a management and research team with over 60 years of combined pharmaceutical, marine natural products chemistry, cosmetic chemistry and clinical research experience.